Warwickshire fire cuts leads to safety checks pledge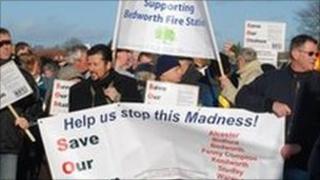 A council has pledged to do more work to prevent fires ahead of the closure of three Warwickshire fire stations.
The county council approved plans to close Brinklow, Studley and Warwick fire stations on Tuesday.
It said the changes were designed to improve services, but the Fire Brigades Union (FBU) said public and firefighter safety could be at risk.
County councillor Richard Hobbs said home safety checks "would be vastly increased" ahead of the changes.
Warwickshire FBU will hold an emergency committee brigade meeting on Monday to discuss how members will respond to the closures.
Protest marches against the closures were held across the county ahead of Tuesday's decision.
However, the service said it had to respond to changing demands, such as dealing with more flooding and traffic accidents.
Fewer retained firefighter jobs and the re-allocation of resources will be among the main changes.
'Historic buildings'
Councillor Hobbs, who holds the portfolio for community safety, said the views expressed in a public consultation were taken into account, and claimed community protection was a priority.
"We will put in measures to keep properties safe before we close any fire stations," he said.
"We are going to vastly increase the home safety checks that we do - and we do know that these save lives."
Rose Jones, executive council member of the West Midlands FBU, said union members were "disappointed" at the closures and loss of retained firefighter jobs.
She said: "You can do as many fire checks as you want but at the end of the day people want a station in their area and a fire engine that will reach their home as quickly as possible."
Ms Jones said the changes meant incidents in Warwick would have to be dealt with by crews from the neighbouring town of Leamington Spa.
"It raises a lot of issues, such as the protection of all those historic buildings," she added.