Cawsand memorial service for marines who drowned in 1968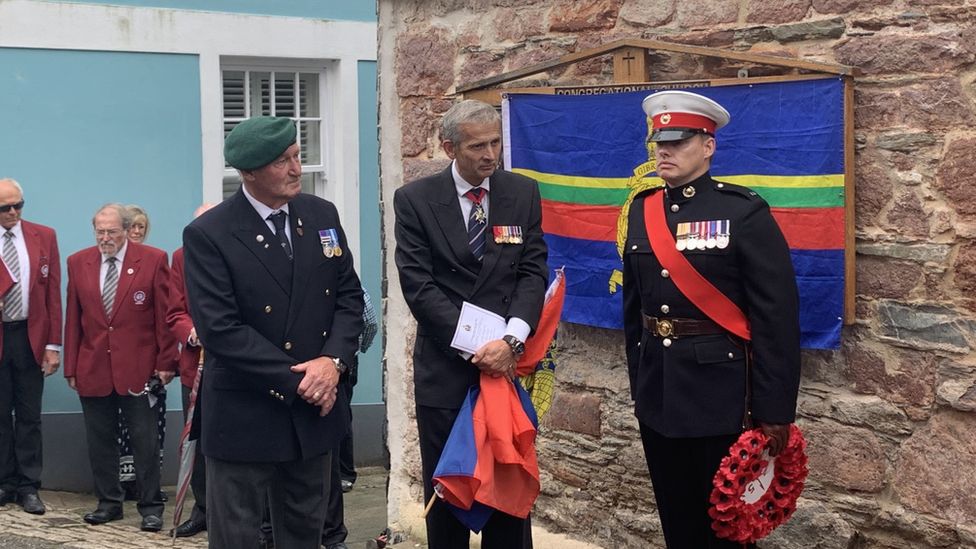 Three Royal Marines who drowned in an accident at sea after a night out have been remembered in a poignant ceremony 54 years after they died.
Hugh Shiel was 18 when he, Michael Coleman, 27, Michael Perry, 20 and Percival Newland, 19, decided to row to their barracks after a night out.
The boat capsized and only Mr Shiel, now 72, survived.
Speaking at the memorial he organised on Saturday, Mr Shiel said seeing their names on the plaque meant a lot.
He said: "The last time we were all together, we were all together here 54 years ago that night. It was a tragic night.
"I'm just so happy that the families after all this time can now see their names in Cawsand and now as the generations go by there's always something there, which is quite important"
Having missed the last bus home they tried to row back but the boat capsized.
Mr Shiel managed to swim to shore but the others drowned. Their bodies were recovered some weeks later.
On Saturday, Mr Shiel was joined by members of the families of the three men, serving and former Royal Marines, and local MP Sheryll Murray for the commemoration.
The plaque was unveiled outside Caswand Congregational Church before prayers were said in Cawsand Square.
Willy Stocks, a former Royal Marine and friend of Mr Shiel's who joined up with him in 1965, said the incident had had a "huge impact on everybody that was concerned".
"They were serving marines involved in a tragic accident and that's what it was - an accident," he said.
"It's laid to rest something that should have been remembered many, many years ago and I know for a fact it's affected Hugh very much so."
He added of his friend: "I think he will be able to sleep easy for the rest of his life."