Blank wall provided for graffiti in Hayle park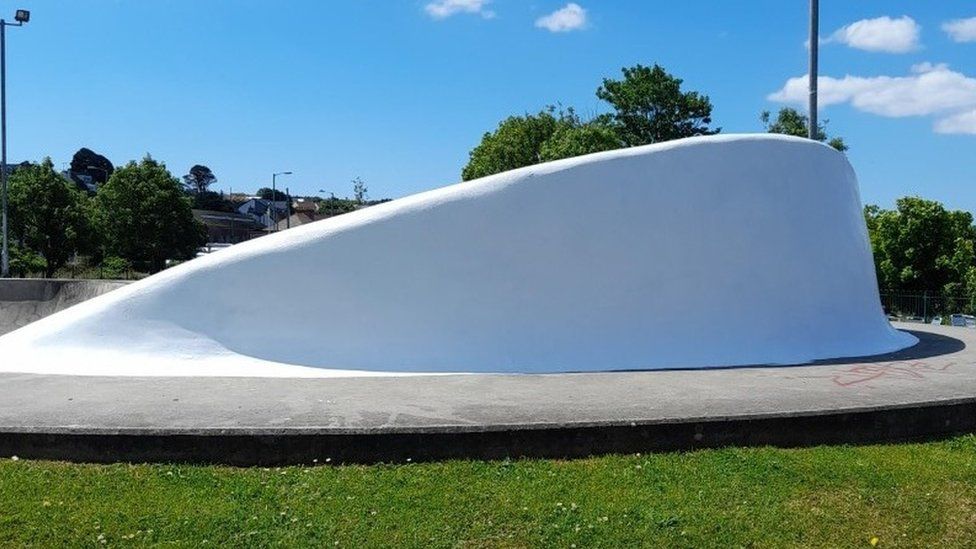 A blank wall has been provided in a park to deter people from putting graffiti in other parts of a town.
The side of the skateboarding bowl in Hayle Recreation Ground has been painted white by the town council, who consulted with local police officers.
The plan is for the wall to be cleaned or painted over from time to time, to allow people "to express themselves".
Hayle and St Ives Police said it was "an attempt to reduce the amount of graffiti around the town".
In a statement they added: "Spray painting, or using pens and markers on property that does not belong to you is a criminal offence.
"This graffiti wall is for all budding artists who want to express themselves or want somewhere to try out their handy work and is the only wall in the park that you can graffiti, without facing criminal proceedings.
"Should other parts of the park and surrounding town areas continue to be targeted with graffiti, then the designated graffiti wall will be removed."
The Mayor of Hayle, Anne-Marie Rance said: "We had a problem with graffiti all around Hayle. For example the youth shelter in Ellis Park, the Penmeneth Nursing Home and numerous road signs - the list is endless."
She added: "It really has been a joint effort between our staff, the councillors and the police and Tri Service Officer.
"I'm really pleased that the young people are enjoying the wall."
Related Internet Links
The BBC is not responsible for the content of external sites.