Hundreds attempt to break synchronised swim record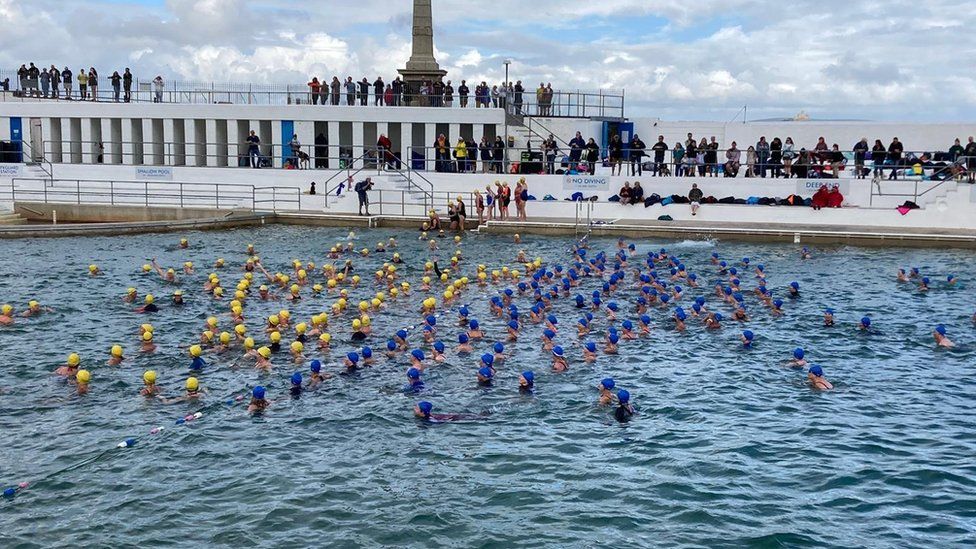 Nearly 300 swimmers have gathered to try and break the record for the largest ever synchronised routine.
The 270 taking part in the Swim For Ukraine event, at Jubilee Pool in Penzance, performed a two-minute, choreographed swim on Sunday.
Organisers said half the swimmers wore yellow swim caps and the other half blue as part of the performance to represent the Ukrainian flag.
Guinness World Records has to confirm if it beat the current record of 247.
The event was produced by Newlyn School of Art as part of the Penzance Arts Festival.
Artist and organiser Anthony Garratt said it had been "a really positive day".
He said: "People got stuck in, working together and forming the Ukrainian flag in the pool.
"It's been really fantastic."
Money raised by the event will go to Unicef to support children affected by the war in Ukraine, organisers said.
Related Internet Links
The BBC is not responsible for the content of external sites.