Marines who drowned 54 years ago 'never forgotten'
By Johanna Carr
BBC News Online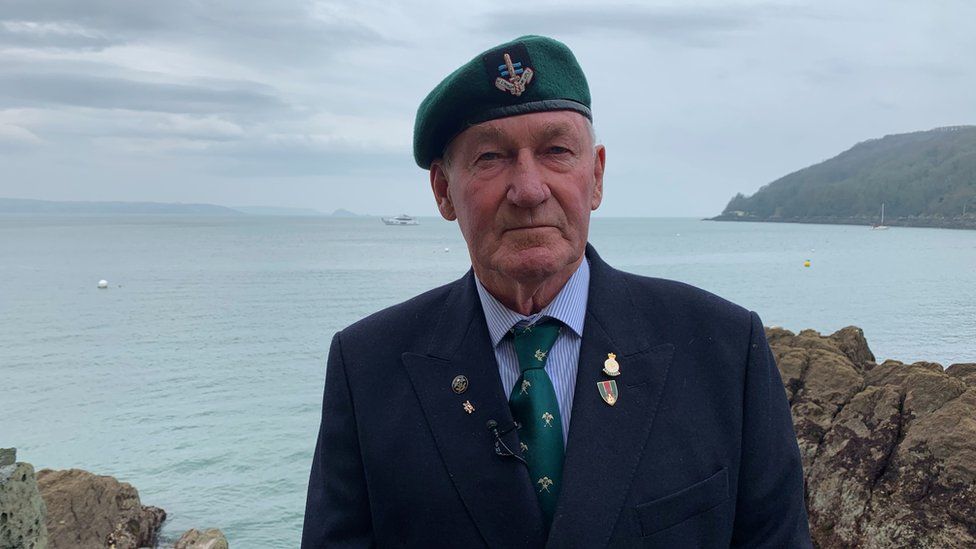 A former Royal Marine who survived an accident at sea that killed three of his comrades 54 years ago has said they will never be forgotten.
Hugh Shiel was 18 when he, Michael Coleman, 27, Michael Perry, 20 and Percival Newland, 19, decided to row to their barracks after a night out.
The boat capsized and only Mr Shiel survived and was able to swim to shore.
He now plans to honour his friends with a service and permanent memorial in the Cornish village where it happened.
"It's always been in the back of my head that one day I will sort this out," Mr Shiel, now 72, said.
"It was a long time ago [but] there was never anything to say it happened."
'They were serving Royal Marines'
Michael Perry, from Wells, Somerset, was "fiercely proud" of being a Royal Marine, according to his older sister Valerie Carver.
She said her brother, who was 20 when he died, had never been forgotten by the family particularly by sister Shirley and their late mother Rosie.
Ms Carver said she was at work with her mother when they got the news that her brother was missing.
"I can remember that like it was yesterday and then we just had to wait and wait because he was missing," she said.
At 26 Michael Coleman, from, Corby, Northamptonshire, was the oldest of the group but the youngest child in his Irish family.
Paul Bradshaw said his great uncle had done some "serious soldiering" but was also a "keen athlete" and amateur boxer.
Pat Newland, 74, said his younger brother Percy Newland, from Abercynon, Wales, had been in Aden for nearly a year before returning to his barracks.
His death aged 19, was a huge shock to the family.
"The loss is still very raw," said Mr Newland.
Mr Shiel had already served a tour in Aden with 45 Commando when he and his friends went on a recreational trip from Stonehouse Barracks in Plymouth to Cawsand on 29 May in 1968.
The group spent the day in one of the fishing village's many pubs, enjoying their free time.
"We missed the last bus," said Mr Shiel.
"We had to be on parade the following morning at 08:00… so we all grouped together and said the only way we are going to get back is to row back, which I know it's silly to say but we were young.
"We requisitioned a rowing boat from the beach, which we would have returned the following day, got out into the bay and started taking on water, too much water.
"The boat became unstable and the boat capsized. The first thing we did wrong obviously was leaving the boat. We should never have done that but we did."
Mr Shiel said it was not a stormy night.
"There was no shouting, nothing going on at all just 'are you alright, are you alright?'" he said.
"We started swimming and it went quiet. I started calling again but there was no response… I just remember it all went quiet, it went absolutely still.
"It was May, temperatures were improving, the sea it wasn't particularly that cold it must have been the weight of the pullovers or the weight of the denims, maybe having boots on, I don't know.
"I just couldn't believe it.
"When you're swimming you think everybody is with you, you turn around and there's nobody there."
Mr Shiel said he did not know "how or why" but he spotted a light on the shore without which he would have "gone the wrong way for sure".
"I started swimming towards the light, swimming and swimming and swimming, pitch black and I just grounded," he said.
"I grounded, believe it or not, on a set of steps [in front of] the Cawsand church and I just stood up."
Mr Shiel said he looked back out to sea but could not see any of his friends so ran to a nearby pub to raise the alarm.
A massive search and rescue operation was launched but it was weeks before the bodies of the three other men were recovered.
"It wasn't something that was meant to happen that was the end of it," Mr Shiel said.
"Not good at all… It was boys being boys, we were youngsters, kids… It was a really bad night. It was a tragic night [and] it'll never be forgotten, ever."
Mr Shiel, who joined the marines aged 16 and went on to serve in the Special Boat Service, said he attended the funerals for all three of his fallen comrades but when he returned to duty "everything seemed to carry on as normal after that as if nothing had ever happened".
He did not speak about what happened for years but after opening up to friends, he decided now was the time to remember.
On Saturday Mr Shiel will be joined by members of the families of the three men who died to unveil a permanent memorial in Cawsand.
There will be a commemoration led by the Reverend Jill Murray from Cawsand Congregational Church as well as prayers and music from Royal Marines musicians, including the Last Post.
"It will mean a lot. It will be recognition," said Mr Shiel.
"These guys, they were serving Royal Marines and this is just so there's something there, you know? It's basically recognition of my friends. The only way I can do it is to put something up. People might walk by and say, what's all that about, you know? It's good.
"It'll help me sort myself out anyway."