Paddleboarders rescue deer stranded in cave near Falmouth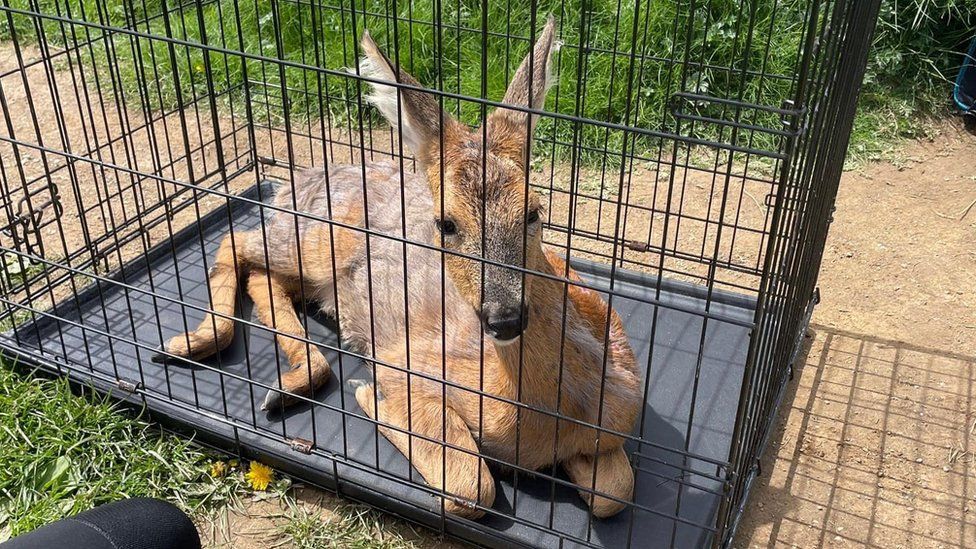 A deer has been rescued by a family of paddleboarders who found the animal in a cave in Cornwall.
They took the young roe deer to the coast path at Maenporth, near Falmouth, and called for help after it was found on Saturday.
The British Divers Marine Life Rescue (BDMLR) attended as the incident was registered as a marine stranding.
Lizzi Larbalestier, from the BDMLR, said it was "well out of our remit as we usually rescue marine life".
It is believed the deer had fallen from the cliff and become stuck in the cave, where it was found by the family on stand-up paddleboards.
Ms Larbalestier told BBC Radio Cornwall: "They swam with the deer to the edge of the water and found it was far too exhausted to get itself up past the gorse.
"So they picked up the deer, took it up to the coast path, where it sat and waited.
"We were pretty worried it may have a broken leg, but it turned out that it was fine - just exhausted with lots of wounds on it."
BDMLR medic Gill Fisher took the deer to Rosemullion vets in Falmouth, where it received some fluids and treatment for its wounds, which were not major.
It was then taken in her car to a location in the area and released into the wild.
Related Internet Links
The BBC is not responsible for the content of external sites.