Climate campaigners set up camp on Cornwall Council grounds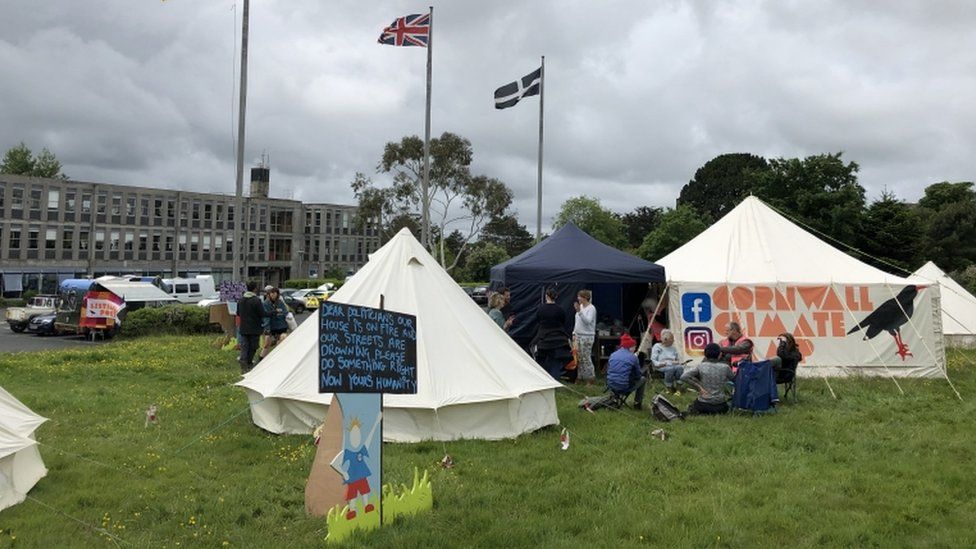 Climate campaigners have set up camp outside County Hall in Truro, urging Cornwall Council for an "urgent increase in commitment and action".
They are planning to be there for two weeks and will be running a series of workshops and training.
Organisers said topics to be covered included the environmental emergency, the housing crisis in Cornwall, green energy and food sustainability.
Cornwall Council has been contacted for a comment.
Environmental campaigners from across the county are at the camp.
On Tuesday, they plan to welcome people attending the council's annual general meeting (AGM).
Charlie Lewin is one those at the camp and said: "Cornwall Council has made some headway towards its goal of net zero carbon emissions for Cornwall by 2030.
"But, sadly, this goal is utterly unattainable without a dramatic and urgent increase in commitment and action."
He added: "Our camp is here to increase pressure on the council to challenge the status quo, step outside of their comfort zone, and get on the right side of history.
"We hope very much that councillors and council staff will embrace the opportunity that this camp affords."