Cornwall pub receives framed apology from Vogue magazine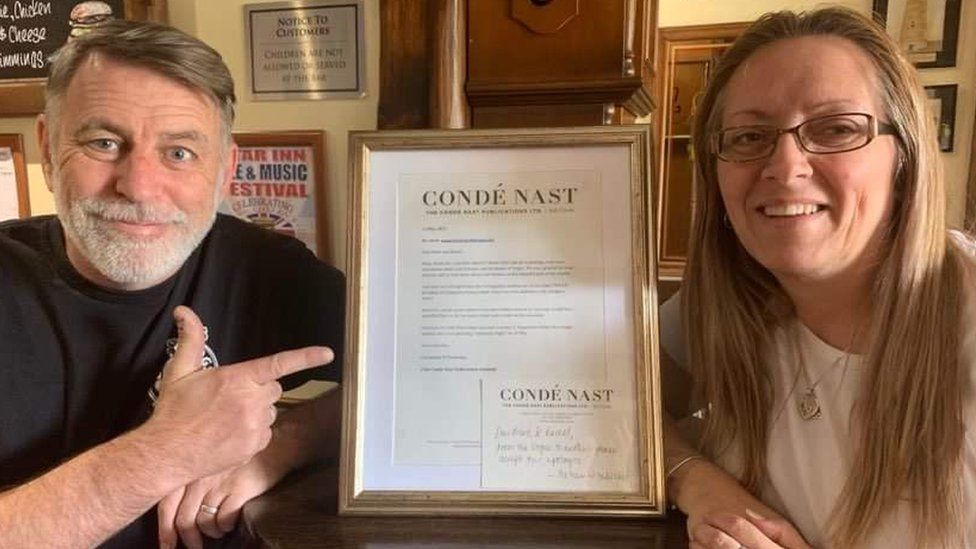 A village pub has received a framed apology from the publishers of one of the world's biggest fashion magazines.
Publishers Conde Nast later apologised and the pub has now received a framed version of the apology.
The parcel included a handwritten note that said: "From one Vogue to another - please accept our apologies."
Pub landlord Mark Graham said the response to the story has been "absolutely mind-blowing".
"It's gone worldwide. I was speaking to the Washington Post last night, and Australian TV for their 'Have I Got News for You' type show over there this morning."
The programme offered him 500 Australian dollars to donate to a charity of his choice.
"To be honest I don't think they [Vogue Magazine] have done too badly out of this mistake either. We are all friends now.
"But we still have some ideas to poke a bit of fun at them."
He said the ideas included starting a parish magazine called Vogue Magazine, and also a rearranged version of Madonna's song Vogue, to be performed by "some of the village's larger, hairier men in skimpy clothing" at the ale festival later this year.
Conde Nast said in its apology that its team "regularly monitor" the use of the name Vogue and was alerted through Companies House.
The letter said: "You are quite correct to note that further research by our team would have identified that we did not need to send such a letter on this occasion."
Mr Graham said: "I'm not expecting to hear anything but now we have opened a dialogue with each other maybe, on a friendly basis, we could start working in tandem together.
"We could invite them to come and do a fashion shoot down here - we could both enjoy this mistake a little bit and have a good laugh about it."
He said people had been in touch from around the world including Germany, Holland, Australia and America and offered support.
"I received a letter this morning from a man in his 90s in a care home in London, an ex-Penzance man who said it has brought a little tear in his eye because it reminded him of Cornwall and how rebellious the Cornish are, and how you can't push them around."
"A few people have said, I've never heard of your pub, but if I'm in Cornwall it is now on my bucket list to come and visit you".