Royal Cornwall Hospitals Trust declares critical incident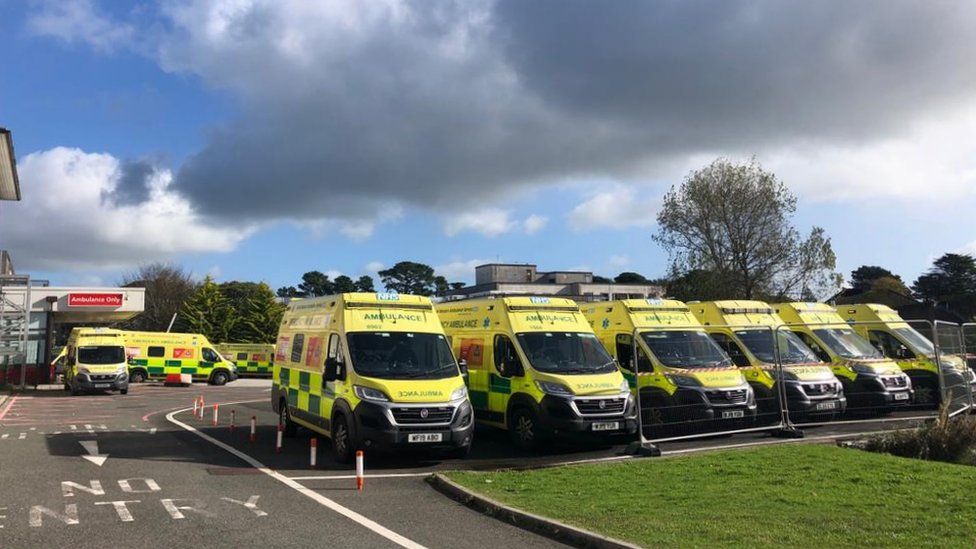 The Royal Cornwall Hospitals Trust (RCHT) has declared a critical incident due to the pressures it is facing.
A critical incident allows all health and care organisations to work together and focus on resolving the situation.
The trust reported up to 100 people were waiting to be seen in the emergency department on Wednesday, with 25 ambulances waiting outside.
Managers contacted staff asking them to work extra hours to help handle "intense pressures".
The trust said the emergency department is designed to accommodate up to 40 people at any one time.
Speaking on behalf of the NHS in Cornwall, RCHT medical director, Dr Allister Grant said: "There is unprecedented demand on health and care services in Cornwall, more so this week than at any point during the pandemic. 
"As a result, we have escalated our operational level from OPEL4 to an internal critical incident.
"Pressure will always be most visible at the Emergency Department where ambulances are waiting, and our priority here is to move people into wards as soon as we can."
As part of the response, NHS staff are working in care homes where beds are available for patients, but there is a shortage of workers.
Dr Grant added: "Families, friends and neighbours are urged to help us, too, by offering to support someone waiting for home care to leave hospital sooner, and we would ask them to contact the ward directly if they can help in any way.
"Getting someone home a day or two sooner will mean we can free up a vital hospital bed for someone else in urgent need."
Colin Holloway said his wife was waiting nearly 12 hours for an ambulance that never arrived.
"You never think that it is going to be you and several hours later it was us and it was very real and it was very scary."
Mr Holloway and his wife Kay, were watching television on Tuesday evening when she felt chest pains.
After a 111 call, an ambulance was ordered which resulted in a 12-hour wait, only to be told the ambulance was not coming.
The "stress was making her chest feel even worse than it was", he said.
"I think we're heading for a catastrophe unless something really happens and I want people to sit up and take notice of this.
"My experience is dreadful, fortunately we've got through, it but someone's not going to make it," said Mr Holloway.
Kay was seen by her GP and things have settled down, he told the BBC.
Analysis: Tamsin Melville, BBC Spotlight
There have been recent repeated warnings about the pressures on the Emergency Department at Treliske, and on the ambulance service.
Last night the trust issued an urgent plea to staff asking if anybody could come in and work extra hours.
BBC Spotlight has been contacted by people from Cornwall who say they have called for an ambulance on the advice of 111 and it hasn't turned up.
The trust said on Wednesday there were 120 people in beds in its wards that could have been discharged out into the community but the care simply wasn't there.
This obviously leads to a build up in pressure within the whole system and the visible manifestation of that is ambulances queuing outside.
Will Warrender, CEO of SWAS, said the service was under "the most sustained period of pressure in its history", adding "the situation today is no better than it was in September".
All planned and urgent surgeries were temporarily suspended at RCHT in September due to the pressure it was under.
Routine surgeries remain suspended, with urgent procedures reviewed daily and continuing where possible.
The trust said on Thursday it was treating 44 patients with Covid-19 - 10 more than the previous week.
Related Internet Links
The BBC is not responsible for the content of external sites.