Boardmasters: 4,700 Covid cases 'may be linked' to Newquay festival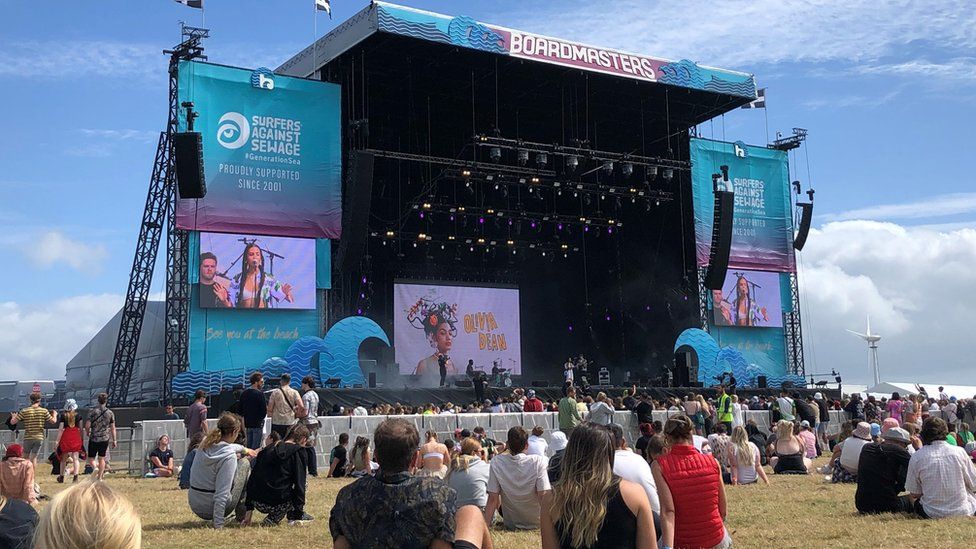 More than 4,000 Covid cases could have links to a music and surfing festival, with more expected in the coming days.
Cornwall Council said 4,700 cases may be linked to the Boardmasters event between 11 and 15 August.
About 50,000 people attended the festival in and around Newquay, which now has the three neighbourhoods with the highest infection rates in England.
Cornwall's public health team said: "We won't know the complete picture for another few days."
About 800 of those positive cases are people who live in Cornwall.
Ruth Goldstein, deputy director of public health for Cornwall and the Isles of Scilly, said: "At the moment, there are currently about 4,700 which could be linked to Boardmasters.
"These are people who have noted when they have had a PCR test, they have been associated to Boardmasters.
"We don't know whether they have been camping, or to events on the beach, or to parties in the town put on by Boardmasters.
"Of those people, three-quarters of them are aged between 16 and 21, which is exactly the profile of the people who we know attend the festival."
Andy Virr - Cornwall Council portfolio holder for adults, and an emergency doctor - said cases were expected but he was "reassured" they were not "translating into a serious life-threatening illness".
He added there were "benefits" from holding the event, although the possibility of cancelling it was discussed by the council.
He told a press briefing: "Covid will have lots of impacts ongoing, and one of them is around loneliness and isolation and mental health problems.
"That festival brought a lot of joy to people. And, yes, there are some things we are having to deal with, but that was part of the judgement.
"I think, at the moment, there are no regrets - we were expecting to have this wash-up to deal with."
Three parts of Newquay now have the three highest Covid infection rates in England for the seven days up to 18 August:
Newquay East - 1806.1 cases per 100,000 people
St Columb Minor and Porth - 1354
The national average of neighbourhood areas within English local authorities is 308.
Festival organisers said they "went above and beyond what was asked of us".
A spokesperson said: "Because of these measures, over 450 people who would otherwise have been at risk of passing on the virus did not attend or left the festival early."
They added: "We look forward to sharing our experience of running the festival in the current circumstances with other large events so we can all continue to provide much needed economic benefit to our wider communities and entertainment to our loyal audience."
Related Internet Links
The BBC is not responsible for the content of external sites.