Newquay roundabout gets surfboard makeover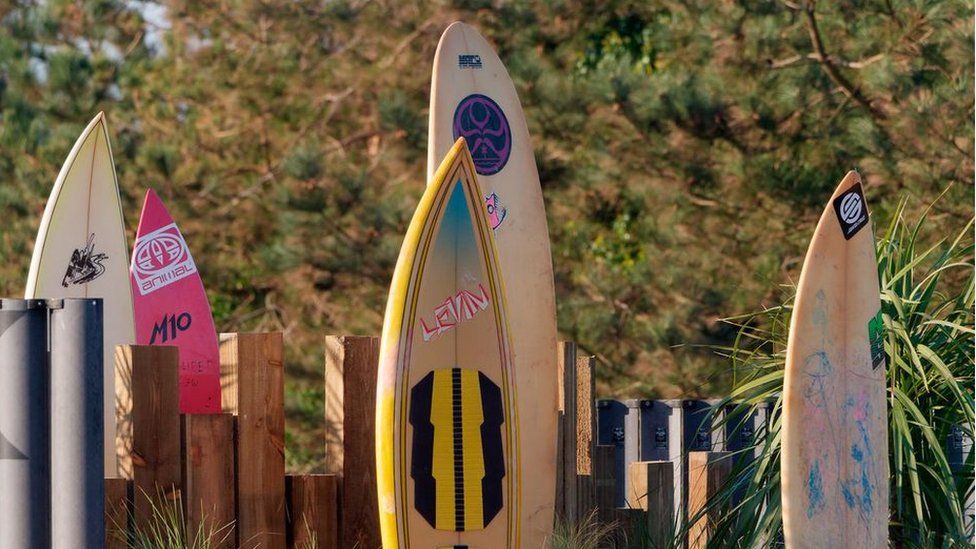 A roundabout has been decorated with surfboards to reflect Newquay's reputation for world-class surfing.
The Pentire roundabout, near Fistral beach, has been transformed using donated surfboards in tribute to the town's long-standing connection with the sport.
The town council described the new look as "a great celebration of Newquay".
Designer Kim Parish from Landscapes of Distinction said she was "over the moon with it".
The town is known for its many glorious beaches and waves and many of its surf competitions are world-ranking, according to Visit Newquay.
The town council approached Ms Parish with a brief to reflect Newquay's environment but also to be low maintenance.
Ms Parish said: "By using the surfboards we were recycling something that was going to be thrown away, but we also reflected what Newquay is known for worldwide."
A call was put out for local surfers to donate boards that they no longer used.
Some critics on social media claimed it could be a target for vandals, but those behind the project said they have been fixed in concrete to protect them from potential vandalism and also high winds.
Ms Parish said her planting showed the two sides of Newquay.
"On one side you've got the tropical that gives the all year round wow impact. And on the other side there is a high percentage of grasses that are reflective of the sand dunes," she said.
Perennial plants would give a blast of colour between May and October, she said.
Newquay resident Robert Taylor said the makeover was "a huge improvement and is long overdue".
"Other towns in Cornwall such as Truro and Falmouth have pretty spectacular roundabouts all year round, yet we seem to get a very low level mix of bedding plants popular in the 1950s and weeds. So at long last a huge improvement has come about," he said.
It is hoped that the plants used will attract pollinators, and the grasses can provide nesting materials.
The Town Council said it hoped to work further with Newquay in Bloom to create similar designs at other roundabouts in the town, to bring "a more welcoming modern approach into Newquay".