Cornish fishing boats 'gathering dust' as EU shellfish exports halt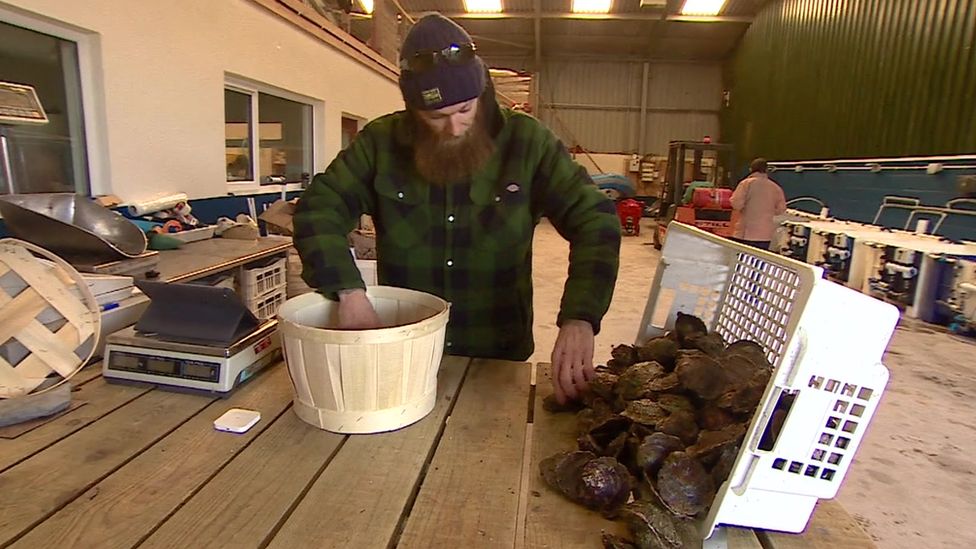 Cornish fishermen are concerned about the future of their jobs as shellfish exports to the European Union have stopped since the UK left the EU.
"The boats are sat there gathering dust," said one fisherman.
Since 1 January only ready to eat shellfish accompanied by an export health certificate (EHC) can be sent to the EU.
This is due to change in April, but Defra said it was working to allow all shellfish exports sooner.
Shellfish merchant Tom Knight said "We're going to have to fight for this one and see if we can get this sorted."
If it does not get sorted in the next fortnight, "then it's going to get to the stage where it won't happen before the end of the season" he added.
Sailor's Creek Shellfish in Cornwall usually buys £20,000 of shellfish a week to be sent abroad, but its tanks are empty.
Leslie Angel who uses traditional fishing methods said there was "a lot of money" involved and predicted he would be paying for licences for 12 months and only working for six months.
Defra said: "It is not currently possible to export wild harvested live bivalve molluscs (LBMs) that are not ready for human consumption to the EU."
Imported animals and animal products from listed third countries, including the UK, have to have an EHC, according to EU legislation.
Fishermen do not yet know whether their catch will comply with the new regulations, but they have been told the paperwork to apply will not be ready until the end of April.
Related Internet Links
The BBC is not responsible for the content of external sites.