Taser death man 'had delusional thoughts'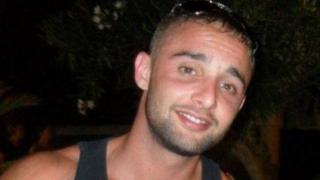 A man died after being Tasered by police on the street while he was holding a kitchen knife, an inquest has heard.
Marc Cole, 30, died in Falmouth on 23 May 2017, Cornwall Coroner's Court in Truro was told.
The jury heard Mr Cole had been having delusional thoughts before his death.
Giving evidence, friend Charlie Black said Mr Cole had recently become increasingly paranoid and believed people were conspiring against him.
Mr Black said he had been friends with Mr Cole for 25 years, and his father's death in 2015 had "impacted him a lot".
"He took it very bad," he said.
'Possessed'
The inquest heard the two spent most 23 May together in Mr Black's bedroom, where they were later joined by another close friend, Daniel Walters.
The jury heard Mr Cole thought people were watching him while he was there, and he had been taking cocaine.
Mr Cole had a kitchen knife with him and believed people were coming to get him, the jury heard.
Following a confrontation between Mr Cole and Mr Walters, Mr Black left the room as he wanted to get his mum out of the house but heard a thud noise.
Mr Black's mother, Harriet, said Mr Cole had fallen or jumped from the first-floor bedroom window and she saw him sitting on the grass holding a kitchen knife.
She said: "He looked at me, but through me. He must have recognised me but he didn't look like Marc at all."
Mr Cole then ran on to the street.
Mr Black said: "Next I heard sirens and someone shout 'drop the knife'. Within a short time I heard a Taser go off."
Paramedics tried to resuscitate Mr Cole, but he died at the Royal Cornwall Hospital later that day.
Mr Walters said in his evidence: "I could see it was not Mark sat behind those eyes. His eyes were black. I will never forget that.
"It was like he was possessed."
He told the jury that he heard the police shout "Taser" several times, and Mr Cole call out for his mum after he was Tasered.
The inquest continues.