Rugby ref saved my life after neck break, says Padstow player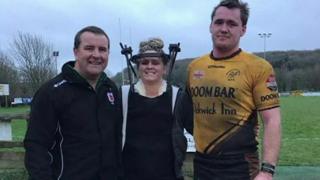 A woman who broke her neck playing rugby said the referee saved her life by stopping her head hitting the ground.
Jessie Humber, from Padstow in Cornwall, suffered the injury playing for Plymouth Albion Ladies in November.
The 26-year-old, who is also an RNLI lifeguard, was tackled and landed on her head against Cullompton.
She said scans at the hospital showed that the referee Dean Davies' quick reactions had saved her life.
Following the impact, Miss Humber was sitting down and lost feeling in her hands and feet when Mr Davies intervened.
She said: "As I was falling down the ref grabbed my head.
"The scans showed that one of four fractures in my C1 vertebrae was right next to my main artery.
"If the back of my head had hit the ground it would have gone straight through it and I'd be dead."
Mr Davies made sure her head remained still for several minutes until an ambulance arrived.
"All refs have a duty of care but he went beyond that. He took control. All I can say is thank you - I owe him so much," Miss Humber added.
She has called on him to be recognised by the Rugby Football Union.
Miss Humber spent a week at the Royal Devon and Exeter Hospital after breaking her neck on 24 November.
She is now wearing a metal neck brace for 12 weeks and has been told she will never play rugby again.
After being discharged from hospital, she went straight to watch her brother Ben playing rugby and was surprised that Mr Davies was the linesman.
Mr Davies said he received a text message the Monday after the game from the team captain thanking him for his actions.
He said: "It's humbling to know that what you have done on instinct possibly saved somebody from catastrophic injury."