Brexit talk MP slams anti-EU letter as 'filth'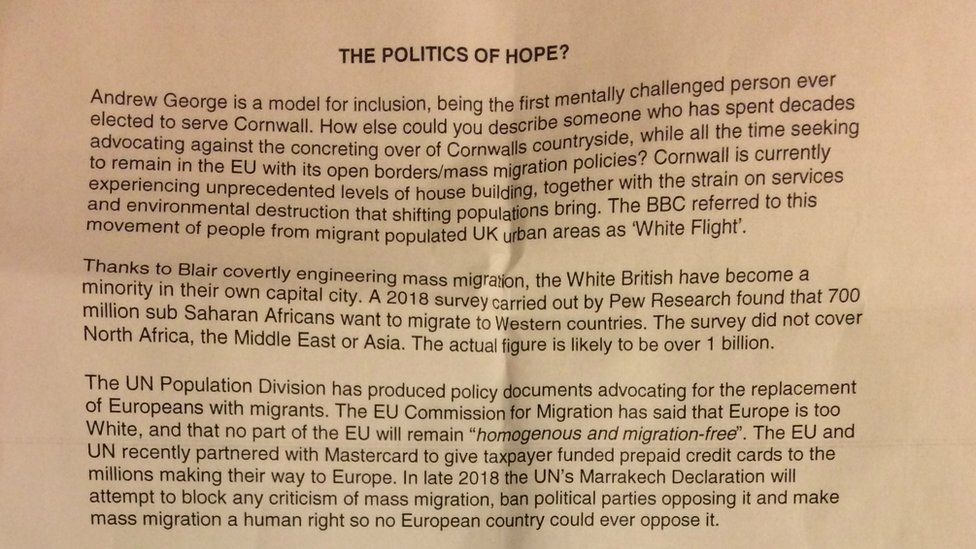 "Racist" leaflets handed out before a public meeting on Brexit will be reported to police, the MP who organised the event has said.
The A4 sheets, which referred to Europeans being replaced with "mixed-race worker drones" were distributed outside the public meeting in Cornwall.
Tory MP Derek Thomas, who organised the talk, dubbed the leaflets "filth".
Former Lib Dem MP Andrew George, who attended the event, described the notes as an "anonymous conspiracist tirade".
Mr George said he had already reported the matter to police, who have been approached for comment by the BBC.
About 40 people attended Friday's meeting, called Brexit Matters, at the Godolphin Club in Helston.
The leaflets contained a number of anti-EU claims, as well as criticisms of immigration and equalities policy.
Mr George, who was described as "mentally challenged" in the text, said the leaflets were handed out at the entrance to the club.
The former MP, who sat as a Liberal Democrat from 1997-2015, attended after offering to give an "alternative view" to Mr Thomas' pro-Brexit stance.
He said the text "inflamed fear of non-white migrants" and was "not a good start" to the event.
The "bigoted cowards" who produced it did not speak up at the meeting when challenged, he said, nor did they leave contact details in the leaflet.
"It didn't emerge until the second half of the meeting that the leaflet had been delivered," he said.
"It was only then the contents of it were exposed by an audience member, [who] expressed extreme alarm."
The meeting was described as an opportunity to "hear the latest developments [on Brexit] and ask questions".
Mr Thomas, MP for West Cornwall and the Isles of Scilly, said: "The letter was not distributed in the venue and I'm sure the author was not present.
"I have retained a copy and will be forwarding [it] to the police on Monday."