Homeless family in Cornwall rehoused 13 times in 18 weeks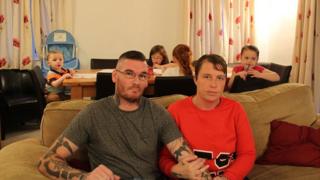 A family of six has been moved by their local authority 13 times since becoming homeless four months ago.
Dean and Amy Coombes were evicted from their house in St Austell, Cornwall, on 29 June, along with their four children aged under eight.
Since then they have been placed in caravans on campsites, holiday cottages, a hotel and a room above a pub, in different parts of the county.
Mr Coombes said the experience felt like being "strangled".
Cornwall Council said it was supporting the family but "unfortunately there is a high demand for temporary accommodation, which includes our own housing stock, properties that we rent, or other accommodation".
'Run out of enthusiasm'
The latest figures reveal 61,190 households with children in England are in temporary accommodation, with 110 in Cornwall.
Mr Coombes said they had been told three times a property had been found for them, only to have the offer withdrawn soon afterwards.
Mr and Mrs Coombes were evicted after being given eight weeks' notice by their landlord, who wanted his property back.
They are now waiting for a house they have been told will become available in Truro, but fear they will be let down, having had the moving date pushed back three times.
"They say 'we'll give you a house' and then the next day they say 'no we won't'," Mr Coombes said.
"It feels like we are being strangled. Your hopes are up, and then you are shot down again."
"We have run out of enthusiasm", added Mrs Coombes.
"We feel deflated - you want to throw the towel in. You want to give up but know you can't.
"The kids are the reason we haven't given up."
The family has belongings in storage, a dog in kennels and a cat in a cattery.
On occasions they have been told to move out of their property without knowing where they are going to spend that night.
"We left one place in the morning, packed the car with all our bags, drove to St Austell and just waited in the car with the children. Then they rung us up and said we were booked back into the same campsite we had just left," Mr Coombes said.
Three of the children have moved to a new school 10 miles from their current residence, a holiday cottage in a rural location near Falmouth.
'Just want normality'
Because of a poor internet connection they have been unable to easily check the school website, meaning they arrived at school one day unaware it was a non-uniform day.
"All the other children were in fancy dress and ours were the odd ones out," Mr Coombes said.
"We don't want much - just a bit of stability and normality for the kids.
"The kids are asking all of the time - they are confused and have been dragged from pillar to post. We feel guilty they are going through this.
"I don't want an extravagant house. I just want a place that is suitable for my family, kids and our dog. I'm not asking for five acres of land and a swimming pool."
Mrs Coombes said: "It feels like forever. We are sick to death of being optimistic. We've been let down too many times. We have no enthusiasm anymore."
The family said they had bid for every suitable property that has come up on the council's Homechoice scheme in various parts of Cornwall.
At one stage they even considered moving to Sunderland - more than 400 miles away - simply because they had heard housing may be available there, but said they eventually decided against it after researching the area.
In a statement, Cornwall Council said it sympathised with the family, adding: "Unfortunately accommodation can be difficult to arrange, especially for larger families who have pets. We review the availability of accommodation on a weekly basis and will move families to a more suitable place if appropriate.
"There is a plan for the family to move in to a privately rented home, however, like any other move where more than one family is concerned, we have to wait for the current tenants to move out before this family can move in."
Polly Neate, CEO at housing charity Shelter, said: "Hit by budget cuts and a lack of affordable homes, overstretched councils are struggling to keep homeless families within local communities.
 "To put an end to this, the government needs to ramp up efforts to build more social housing to give families the chance of a decent and permanent home."