Jasmine Rook: Falmouth student and transgender campaigner took own life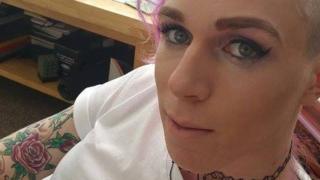 A student who took her own life on campus made a "crisis" phone call for help that was not followed up by the NHS, an inquest has heard.
Jasmine Rook, 22, phoned a mental health out-of-hours service pleading "to go to a safe place" one night in September 2017, the hearing was told.
The transgender woman, who had tried to take her own life that month, hung up and her call was not returned.
She was found dead nine days later on Falmouth Universty's Penryn Campus.
Cornwall coroner Emma Carlyon said the phone call was the last time she was definitively known to be alive, and a verdict of suicide was recorded as the cause of death.
Ms Rook's mother Stephanie Bolter told the Truro inquest she had been increasingly worried at her daughter's lack of contact in the lead up to her death and on 29 September she had a "horrific feeling she was dead".
Ms Bolter said she repeatedly contacted the university asking them to find her but the "common response from the university was that Jasmine has privacy rights".
The inquest heard how mental health professionals knew Plymouth-born Ms Rook had tried to take her own life early in September but failed and was taken to A&E on 16 September after pleading with university security staff to kill her.
She went on to miss several appointments which they tried to contact her about, it was told.
Jack Richards, a mental health nurse with Cornwall Partnership NHS Foundation Trust said he thought Ms Rook was at "moderate risk" and that she "seemed to be looking to the future" when he spoke to her.
However, Julie Rae from student services, which had been supporting Ms Rook, said she had expressed a recent fear of the potential abuse she might suffer if she went to a male prison as a transgender woman.
Ms Rook was on hormone replacement therapy and her gender transition seemed to be going positively, but she had recently struggled with money worries, a relationship break up and alcohol misuse, the hearing was told.
The coroner said Falmouth University and Cornwall Partnership NHS Foundation Trust had carried out a review since the death and had made many improvements with regards to sharing information better and escalating potential crisis cases.