Plane crashed in field 'after bang and vibration on board'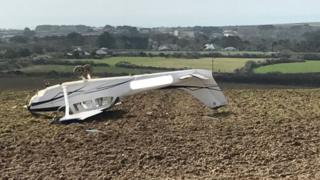 A light aircraft landed in a field and flipped over after a bang was heard on board, an investigation says.
The Air Accident Investigation Branch (AAIB) said an 80-year-old pilot took off in the single-engine Cessna F172, manufactured in 1968, from Perranporth Airfield in Cornwall on 19 April.
He declared a mayday and made a forced landing after reporting a "sudden bang and heavy vibration".
The cause of an engine problem "could not be determined", the AAIB said.
The four-seater plane came down close to a garage near St Agnes just before 14:30 BST, about three miles southwest of the airfield.
The AAIB said that after the pilot declared an emergency at 50ft (15m), he realised that a field he had opted to land in "was unsuitable so he veered left and landed in a harrowed field".
It said the aircraft's wheels dug in on landing and the aircraft flipped over, ripping the nose-wheel off.
Although there were some concerns in the report about how fuel was being burned, and with the aircraft's carburettor, the "cause of the engine problem could not be determined", the AAIB said.
The pilot was able to get out via the passenger door and was reported to have only suffered minor injuries the crash.