Pool man who fractured dog's back jailed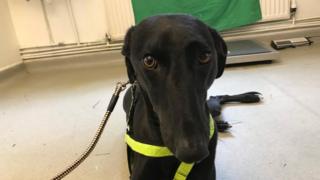 A man who fractured his dog's back and left it with "very extensive" bruising has been jailed.
David Owen, 30, claimed he inflicted the injuries on Archie after the lurcher-type dog attacked him.
Owen, of Pool, Cornwall, pleaded guilty to two charges of causing unnecessary suffering by blunt force trauma and potentially painful training or disciplinary measures.
District Judge Diane Baker sentenced him to 18 weeks in prison.
At Truro Magistrates' Court, she said Owen had showed "no remorse" for his "deliberate, sustained and unprovoked attack" which left Archie with a suspected ruptured ear canal, severe facial swelling, blood in his urine and a compound fracture to one of his vertebrae.
The court heard Owen rang the Cornwall Animal Hospital in Redruth on 16 April claiming Archie had bitten him.
He asked if the dog could be put down but the hospital refused.
Archie has since been adopted.
Lindi Meyer, prosecuting for the RSPCA, said Archie was subsequently assessed by a behavioural expert who found he did not "present any more risk than any other pet dog".
Neil Lewin, for the defence, said his client had a "violent upbringing" and there was a suggestion he suffered from post-traumatic stress disorder and obsessive compulsive disorder.
Head veterinary nurse Vicky Webber said the team at the Cornwall Animal Hospital had been "shocked and upset" by Archie's condition.
She said: "I have never seen a dog with that much bruising, in that much pain, caused by a human before, never and I have been working there for 15 years."
Owen was also banned from keeping all animals for life and ordered to pay £500 towards the costs of the prosecution.