Woman, 87, waited six hours for ambulance after fall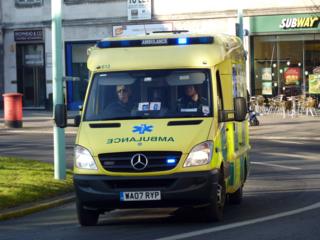 An 87-year-old woman lay on the floor for more than six hours waiting for ambulance staff after a fall.
Elaine Hicks's son Graham said staff at Poldhu Care Home in Mullion, Cornwall, feared his mum could die from her face and leg injuries.
The ambulance was called at about 06.30 BST on Saturday, and arrived at about 12:30 BST.
The South West Ambulance Service said it was "very sorry" for the delay and blamed a growing demand on services.
Mr Hicks said: "Fortunately my mother was not seriously injured but we had no way of knowing that at the time."
A spokesperson for the ambulance service said "We are very sorry that we did not reach this patient sooner.
"Based on the information given to our staff, there was considered to be no immediate threat to her life.
"Like all ambulance services across the country, we continue to see an unprecedented rise in demand for our services.
"Unfortunately, with finite resources, this means that occasionally those patients assessed as being less urgent can experience a delay."