Chicken deaths prompt dog control plea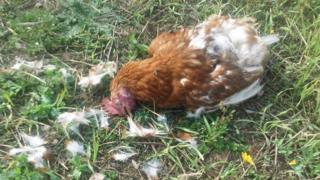 Dog owners have been warned to keep their animals under control after three chickens were "mauled" to death in separate incidents on a farm.
Davina Foster from Perranporth, Cornwall, posted a picture of one of the dead rescue birds on social media, appealing for owners to take more care.
The National Farmers Union said it was "renewing its call for dogs to be kept on leads near livestock".
The identities of the dog owners are unknown.
Ms Foster, whose smallholding is next to a stretch of the popular South West Coast Path, said the dogs had jumped the hedge and killed the birds on two different occasions in three days.
"I just want to remind all owners that animals can be unpredictable so please, please, please keep your dogs on leads," Ms Foster posted.
"We lost two chickens on Wednesday to an off-lead dog who also went for our calf - tried to chase him off but started them all bolting! And now this afternoon this poor girl has also been mauled," she said.
A National Farmers Union spokesperson said it was quite unusual for chickens to be killed by dogs.
"Incidents where livestock are worried by dogs are always very distressing for all concerned and underline the importance of keeping dogs on a lead whenever they are around farm animals," the spokesperson said.