'Concrete cancer' causes home evacuations in Cornwall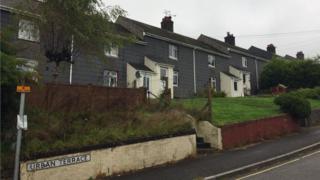 People are having to be evacuated from their homes after a severe case of "concrete cancer" was discovered in 15 properties.
After reports of damp in the properties, surveys were undertaken in Callington, Cornwall, and cases of "mundic block" were found.
The houses at Urban Terrace were found to be unstable and therefore unsafe to live in. They will be demolished.
Ten of the homes are owned by Cornwall Housing, while five are private.
Cornwall Council is renting private accommodation for those people affected.
Latest news and updates from Devon and Cornwall
Councillor Andrew Mitchell said: "My sympathies go out to those affected residents".
"While their safety is our utmost priority, I appreciate that losing your home and having to relocate is incredibly distressing and this must be heart-breaking.
"We will do our utmost to minimise the impact by finding them suitable permanent homes as close as possible to their current residence if they so wish, or an alternative area of their choice."
Mundic block occurs in concrete blocks have made using waste rock from mining, quarrying or beach gravel, leading to structural weaknesses.
Sulphide minerals - often found in mined or quarried rock - can oxidise under damp conditions, creating sulphuric acid.
Fine grained rocks from the ocean floor can expand when exposed to moisture, while traces of coal from mines can also cause cracking when wet.