Seagull-killing Cornish teenager given curfew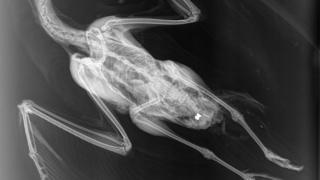 A man who killed two seagulls with an air rifle has been handed a curfew and the weapon has been destroyed.
Edward Mosley, 19, of St Anne's Road, Newquay, admitted shooting the two nesting herring gulls.
The RSPCA described the attack as "callous" and urged people to "be tolerant of the wildlife around them".
Truro Magistrates' Court ordered Mosley to obey a four-week curfew between 19:00 and 07:00 on Fridays, Saturdays and Sundays.
More on this story and other Devon and Cornwall news
'Protected under law'
RSPCA inspector Paul Kempson, who investigated the gull attacks for the charity, said: "Gulls have a particularly tough time of it and every year we see callous attacks like this, particularly in coastal areas."
"We urge people to be tolerant of the wildlife living around them, and remember they are protected under law," he said.
Gulls and their nests are protected under the Wildlife and Countryside Act 1981 and it is illegal to intentionally kill, take or injure wild birds.
Mosley was also ordered to pay court costs of £385 on Wednesday.