Hundreds stranded on new high-speed train in Devon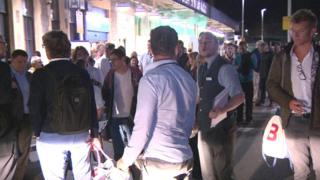 Hundreds of passengers were left stranded on a new GWR high-speed train for six hours after it broke down.
The 14:00 Penzance to Paddington service came to a halt at 17:15 BST just north of Exeter on Thursday.
About 400 passengers had to be assisted off the Hitachi 800 train with ladders and transferred to another train which took them back to Exeter.
GWR apologised to passengers via social media and said they would be offered a refund and a free ticket.
See more news from Devon and Cornwall
The breakdown impacted numerous other services in the area with reports of up to six trains backed-up on the track.
One passenger said the train came to a stop "very suddenly" while another, Mary Knight, who got on at Plymouth, said it took an "awfully long time" to evacuate the passengers from the train.
Other passengers criticised the lack of information announcements.
The company said "every effort was made to get the train moving".
"As a result, we had to safely move customers on to another train - this involved waiting for the other train to arrive and closing the line for a short period of time," GWR added.
You may also like:
James Smith said on Twitter that his daughter got home at 03:30 after travelling for 11.5 hours.
Savannah Beckwith, who was travelling from Taunton to Torquay, complained about the delay in getting a taxi once she finally got to Exeter.
Carol Valentine, shared her concerns, adding the journey had been "a bit of a nightmare".
While another passenger, on Twitter as Mrs Hadenuff, said they could have travelled to New York faster.
Another passenger said he got on at Exeter at 17:15, travelled a short distance on the train, then arrived back in Exeter at around 23:30.
Joe Latham said people were quite stressed but the atmosphere was friendly, with some passengers even having a sing-a-long to a guitar.
"I quite liked it even though obviously being stuck was a pain," he said.
Nurse Greg Dix was travelling with a group of health professionals.
He tweeted regularly throughout their journey, including an image of a pizza box, saying: "8 hours later - still waiting to depart from Exeter - thank you @GWRHelp for the Domino's."
GWR thanked customers for their patience and said there would be a full investigation into what happened.
"Our priority last night was to get customers onboard on their way as quickly and safely as possible," he said.
"We used another train to get them where they needed to go, with staff handing out hot food and drink to customers."