Flush buyer splashes out £73,000 on disused toilet block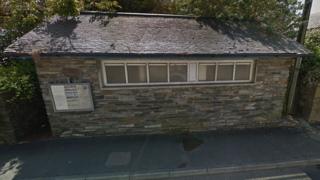 A mystery buyer was feeling flush when they splashed out £73,000 on a disused toilet block at auction.
Conveniently located just yards from the harbour in Newlyn, Cornwall, it had been listed with a guide price of just £15,000.
The block, sold by Cornwall Council, is a little on the wee side, measuring just 24.5 x 13.5 ft (7.5 x 4.1m).
Subject to planning permission it could be turned into either a residential or commercial development.
More on this story and other Devon and Cornwall news
Auctioneers were relieved the building had generated "a lot of interest" with "15 to 20 individual bidders" vying to spend their pennies.
Katie Semmens from Clive Emson Auctioneers said: "We had the feeling it was going to do well, but the glory of auction is you never know how well until the day arrives."