Truro merry-go-round destroyed in 'arson attack'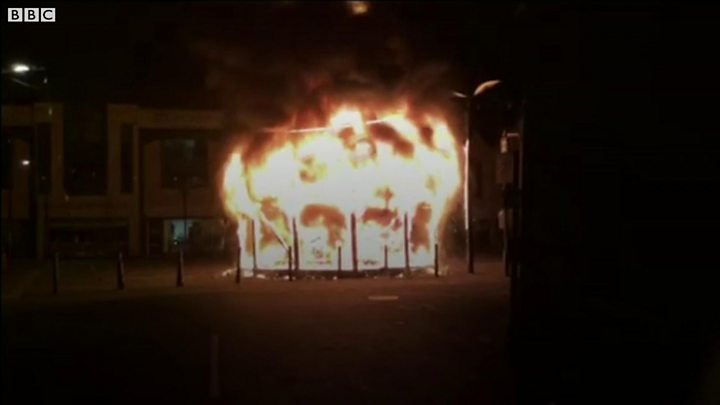 A popular city centre merry-go-round has been destroyed in a suspected arson attack.
Police and fire crews were called to reports of smoke billowing from the ride on Lemon Quay in Truro, Cornwall, at about 02:45 BST.
Cornwall Fire and Rescue Service said arson was suspected and an investigation will take place later.
Witness Andy Mitchell said: "Once the paint caught fire it went 'whoosh' and within seconds it was a fireball."
Mr Mitchell had just completed a delivery to Rowe's Bakery when he noticed the blaze.
"There was smoke in the air but I didn't think anything of it," he said.
"Then I saw small flames building right in the very centre, amongst the control bit in the middle.
"There was no-one in it. The netting around the ride was tied up secure, it didn't look like anyone had messed with it.
"It had obviously been smouldering for a while because the whole of the town centre was full of smoke. And once the flames started that was it."
Cornwall Fire and Rescue Service said it received calls from people "reporting a large fire in the centre of the city".
"Our CCTV operator monitored the fire develop very quickly and a further appliance was mobilised due to the size and nature of materials on fire.
"Devon and Cornwall Police also attended this incident as arson is suspected."
One resident said: "It's just a pile of burnt metal and ash, that's all that's left. It's terrible."
Another added: "You always see the little children playing on it, especially on Saturdays. We're just shocked."