Anger after plastic glitter fired into Cornwall harbour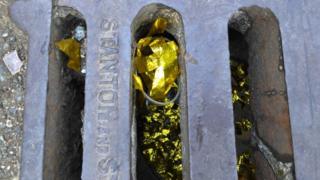 Plastic glitter confetti was fired by a cannon on the quay of a seaside town, sparking concern from campaigners.
Strands of the glitter were found floating in the harbour and in drains after an event in Fowey, Cornwall, on Thursday.
It was fired during a performance by Fowey Town Band during the Fowey Royal Regatta celebrations.
Campaigners who are trying to stop single use plastics in the town called it "extremely regrettable".
A major clean-up operation has been launched after pictures emerged on social media showing the plastic in the harbour and in drains.
Lucy Daniel of Plastic Free Fowey said the band's actions were "extremely regrettable" but that they were "very sorry about it".
"It is a learning experience," she said.
Ms Daniel also said the regatta committee would be "drafting an environmental impact arrangement" to stop it happening again.
Plastic Free Fowey is holding a beach clean on Sunday at low tide to "scoop up the remaining residue".
People took to social media to criticise the littering.
"Surely somebody should have stopped this ridiculous idea and right on a direct path to the sea and into the mouths of fish," said Nichola Sherriff on Facebook.
"How can we possibly complain about tourists littering beaches when the Cornish are doing such a great job of making Cornwall a dumping ground."
The Cornish Plastic Free Coalition said the "debris was everywhere including down the drains and in the river".
Street cleaners were "doing an amazing job trying to clear it up but the wind had blown it everywhere".
Fowey Royal Regatta said neither it nor the town council was "aware of the plan to use the glitter cannon".
It was "committed to reducing single use plastic and we would have requested the use of paper tape had we been advised of the Fowey Town Band's plans".
No-one was available for comment from the town band.