Royal Cornwall Hospital 'neglected' woman who died in A&E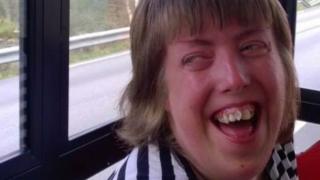 A hospital neglected a disabled woman who died in A&E by failing to carry out basic medical checks after she was admitted, an inquest has concluded.
Katy Lowry, 30, who had chromosomal abnormalities and learning difficulties, was taken to Royal Cornwall Hospital on 13 December 2016.
She had been vomiting every 15 minutes for nearly 24 hours.
Coroner Dr Emma Carlyon concluded Miss Lowry died of natural causes, contributed to by neglect.
She said the failure to carry out basic observations and adequate assessment on Miss Lowry when she arrived at the hospital had "led or contributed to her death".
Her fatal collapse happened about two-and-a-half hours after arriving at the hospital and she could not be resuscitated.
Expert witness and consultant surgeon Andrew Wyman said if observations had been taken and treatment of IV fluids and antibiotics had been started Miss Lowry would not have died.
Nurse Simon Taylor, who had been on triage duty, said he decided not to take Miss Lowry's observations as she would have needed to have taken some of her clothing off - something he felt would be "inappropriate".
The inquest heard Mr Taylor had said in an interview following the incident he had very little time to triage each patient and undressing Miss Lowry would have taken "a lot of time" because she was in a wheelchair.
In evidence he denied he had said this.
'Gross failure'
The inquest heard a number of opportunities were missed to take the observations.
The omission was described as a "gross failure" by the hospital's chief nurse Kim O'Keefe, who apologised "unreservedly" on behalf of the Royal Cornwall Hospital Trust for Miss Lowry's death.
Miss Lowry's medical cause of death was recorded as pulmonary aspiration due to hiatus hernia and acute cholecystitis - inflammation of the gall bladder.
In a statement, Miss Lowry's brother Christopher said the family had wanted to know the true cause of his sister's death.
"Was this detectable, treatable and her death preventable, and sadly we know now the answer is 'yes' to all three," he said.
He added: "Katy, we miss your laughter, your singing, your sparkly shoes and socks and your pennies left all over the house, we even miss the sound of your noisy toys. All of our lives are less colourful now."
Vaughan Temby from DisAbility Cornwall and Isles of Scilly, said: "Katy would still be here if she had not been viewed as a disabled person first but as a patient first."
In a statement after the hearing Mrs O'Keeffe said Miss Lowry's death "should not have happened".
She said: "Over the past 12 months we have been strenuously working to be an Improving Trust in safety, governance and delay and we are committed to learning from the investigation into Katy's care."