'Brazen' Cornwall estate agent lied about selling homes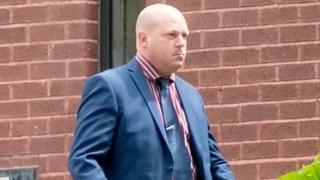 An estate agent who claimed to have sold homes he had nothing to do with to boost his reputation has been fined £12,500.
Coastguard volunteer Martin Hobbs also marketed a house that was not for sale, a court heard.
Hobbs, 43, from Cawsand, who ran MPH Estate Agents, admitted five charges at an earlier hearing.
Sentencing at Truro Crown Court, Judge Simon Carr said: "You did this to gain a market advantage to make money."
Hobbs pleaded guilty to four counts of false and misleading advertising and one of obstructing an investigating officer by producing a fake letter of instruction.
Derek Perry, prosecuting for Cornwall Council, told the court Trading Standards began investigating after another agent reported Hobbs was marketing a property her agency was the sole agent for.
"He purported to market properties when he wasn't to make himself look more successful," said Mr Perry.
The prosecutor said that in a "brazen" move, one home Hobbs claimed to have on his Millbrook-based business' books was owned by a couple who had no intention of selling.
Hobbs also claimed he sold a home which was in fact sold privately, then falsified an offer letter to give to Trading Standards investigators, the court heard.
He also falsely said he had sold a home in Cawsand that was never sold, Mr Perry said.
Nicholas Lewin, defending, said Hobbs, a married father-of-three, had filed for bankruptcy and had debts of £80,000.
He said: "He pushed a failing business too hard."
The court heard Hobbs had a conviction for harassment from August 2017 related to his behaviour towards the estate agent who had reported him.
He was fined £12,500 and ordered to repay £10,000 as a contribution to prosecution costs.