Cornwall tourist overcrowding 'will not deter visitors'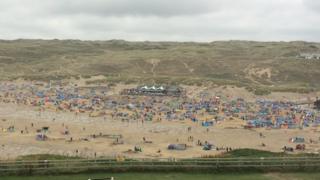 Tourists say "mass overcrowding" in parts of Cornwall will not deter them from returning to the county.
Tourist board Visit Cornwall said last week it had stopped promoting two beaches due to "unprecedented gridlock" reported by some local people.
While some visitors said congestion had been "disappointing," they vowed to come back in future years.
An estimated 20% rise in numbers this summer is being linked to the heatwave.
Malcolm Bell, from Visit Cornwall, said the influx at Porthcurno and Kynance Cove in the west was down to them being heavily promoted on social media, and the "massively hot weather".
On the north coast, Sara Nealon, visiting from Rugby, Warwickshire, said she had been "surprised and annoyed" at the heavy traffic.
"We tried to get to Fistral Beach on our first day and the road into Newquay was absolutely chock-a-block... we decided not to go there again," she said.
"It is a bit disappointing that we've spent so much time in the car this week."
Maxine Nichols, from Buckinghamshire, said she was "relaxed" as she queued to park at the beach as it "was worth it".
"The queues are massive but you've just go to take it in your stride really... some people have got frustrated and done U-turns though," she said.
Father-of-four Nick Lovell said: "I've been coming down every year since I was a baby, and my wife has been coming down every year since she was a baby... It would take a lot of traffic to stop us wanting to come, because it's amazing".
Claims that the extra numbers were caused by the "Poldark effect" - a reference to the popular TV drama - were rejected by Chris Barnard, who runs tours of Cornish filming locations.
"It really is the weather," he said. "Some locals are saying they can't cope but everywhere is booming."
On Twitter, Carol Hall said: "I was there last week in St Ives - busy but no problems whatsoever"; while @hashish62 commented: "I live in St Ives and it is pure hell in July and August, horribly overcrowded".
However, Visit Cornwall said some of Cornwall's 400 beaches and coves still required more visitors.