Double-womb mother Jennifer Ashwood feared a miscarriage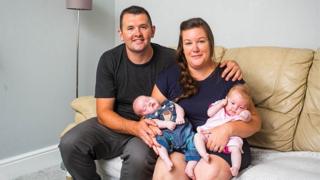 A woman who gave birth to twins from two wombs has said she feared losing them in a miscarriage.
Jennifer Ashwood, 31, from Camborne in Cornwall, has a rare condition known as bicornuate uterus.
She only found out after a second scan in January when her "initial reaction was a bit of fear".
Ms Ashwood developed the condition when she herself was in the womb. It was not spotted when she had her first child - Millie.
A scan last year, when she was 12 weeks pregnant, revealed she had twins but not that each one had their own womb.
However, she said: "At the 20 week scan they discovered that I had two uteruses.
"They said it was very rare, so I wondered if they would remain viable.
"They said there was a high chance of premature labour or a miscarriage."
In most cases women with the condition will only carry one baby, in one uterus.
However, during Ms Ashwood's normal monthly cycle, she ovulated and released two eggs - one from each fallopian tube.
Both were fertilised and remained in each separate section of the uterus.
After the second scan she went in to hospital for weekly checks.
"Things kept going well," she said until she went into labour prematurely at 28 weeks and was given medication to delay the process.
Ms Ashwood went into labour again at 34 weeks and gave birth to a boy and a girl via caesarean section on 6 May.
Her son Piran weighed 5lb 10oz, while daughter Poppy weighed 5lb 3oz.
Ms Ashwood thanked the "fantastic staff" at the Royal Cornwall Hospital at Treliske and her partner, firefighter Andrew House, 30.
"I could not have done it without him being by my side," she said.
"He was so calm and I'm a bit of a worrier."
Almost three months on and both babies are "doing really well".
"Any baby is a miracle, but these two are extremely special," she added.