'Poldark' harbour bought by Eden Project co-founder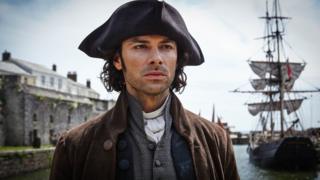 A historic Cornish harbour used to film scenes in BBC One drama Poldark has been sold for an undisclosed sum to Eden Project co-founder Sir Tim Smit.
Charlestown, which is Grade II listed, is one of the few British ports still privately owned and is a popular film setting.
Agent Jeremy Beeching said he expected the sale of the port to go through within weeks.
He added all current and future filming contracts would be honoured.
Built in the late 1700s by Charles Rashleigh, the port was bought by Shane McCarthy of Atlantic Productions in 2012.
Mr Beeching, a partner at SBC Property based in Truro, said it had not been for sale or marketed but the deal was done after Sir Tim approached Mr McCarthy and they agreed an "undisclosed sum".
"It has been in on-going discussions for some time and we agreed terms which are in the lawyers hands just undergoing due diligence," he said.
The port has been used as part of filming for the new version of Poldark since the series was launched in 2015.
Lights, camera, action!
Charlestown has been used as a film location for a number of period dramas, as well as Poldark. They include:
Taboo: Tom Hardy was spotted filming the gothic Georgian drama in the Cornish port in 2016
Alice in Wonderland: Tim Burton's 2010 reimagining of the fantasy adventure story was partly filmed in the port. The film, which starred Johnny Depp, Anne Hathaway and Helena Bonham Carter, features Charlestown as the dock, from which Alice sails away
The Eagle Has Landed: The 1976 war film, starring Michael Caine, was also filmed in Charlestown.
Sir Tim, who also founded the nearby Lost Gardens of Heligan, is adding the port to the Shipwreck and Heritage Centre in Charlestown which he bought in 2016.
You may also like:
Mr Beeching said that as part of the deal all contracts with television production companies would be honoured.
"The filming is particularly important to the popularity of the harbour," he said.
"It is a major tourist attraction in its own right and under Tim Smit's ownership it will increase I think because he is very good at attractions."