Cornwall fairy festival 'unicorns' in Guinness world record bid first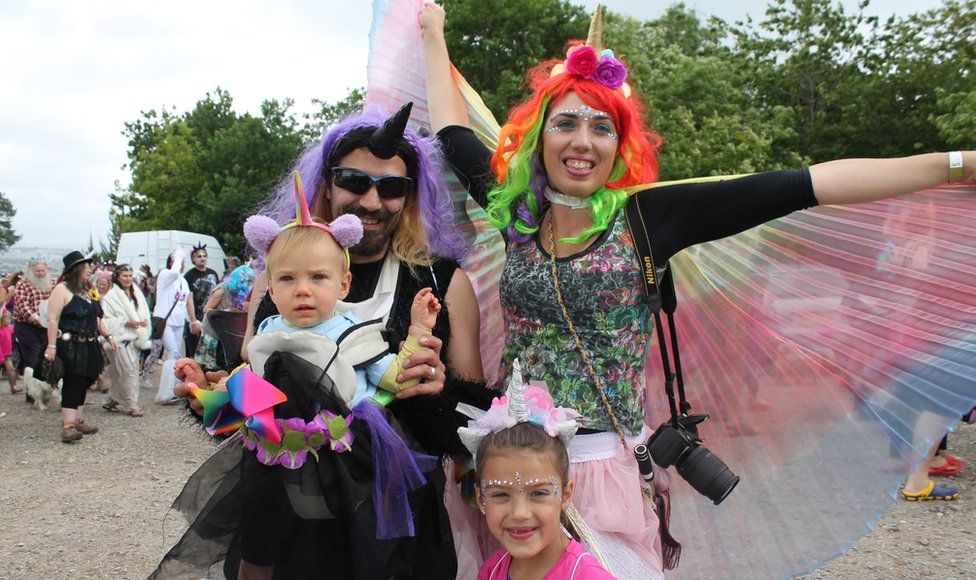 More than 500 people at a fairy festival gathered to set the first world record for the largest crowd wearing unicorn horns.
The 3 Wishes Festival goers put on their horns, some wearing fancy dress, at Mount Edgcumbe, Cornwall, for the record, which has never been attempted.
Guinness World Records is yet to verify the record but said a minimum of 250 people was required for success.
Organisers of the "unique and magical" event said they were "very confident".
Many of the unicorn horns were home-made and everyone paraded up to a main stage where they were counted.
Festival goers including Jamaican, French and Polish nationals said the event was "unique, magical and very accepting of minority communities".
Karen Kay, event organiser and self-professed "fairy lady", said: "I wanted to do something different and unicorns are like the new black - they're en vogue and everyone is going crazy for them.
"Unicorns represent freedom... There's so much going on in the world at the moment, we all need that bit of uplifting and celebration."
Related Internet Links
The BBC is not responsible for the content of external sites.