Lamb on the rocks saved after four days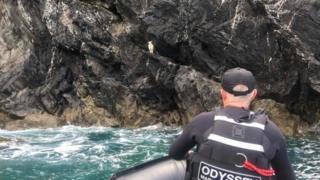 A lamb which spent four days stuck on a cliff ledge has finally been rescued.
The wayward animal, named Lucky, was trapped at the bottom of a 250ft (76m) cliff off Holywell Bay, Cornwall.
Overhanging rocks meant it was only possible to retrieve him from below, but heavy sea swells prevented rescuers from reaching him.
But, when conditions improved, farmer Bob Coad swam out to the rescue with help from a local marine adventure company.
'Good sea legs'
Members of the firm kept Mr Coad and the coastguard updated on Lucky's health during the four-day wait to reach him.
Matt Relton, from Odyssey Marine Adventures, said the lamb must have fallen into the sea and clambered onto the ledge.
"Goodness knows how he survived," he said. "The sea has been really rough, so I really don't know how he managed not to get washed into the sea.
"With a big swell it was unsafe to get a boat anywhere near.
"With high spring tides, we feared he wouldn't survive the next high tide."
But on Saturday, Mr Relton said, he was able to get close enough for Mr Coad to climb up the rocks and rescue his lamb.
"The farmer was able to get onto the ledge, grab Lucky and pass him down into the boat," he said.
"The sheep was super friendly and seemed to have good sea legs.
"He seemed delighted to be rescued."
You may also like: