Isles of Scilly helicopter service suspended days before launch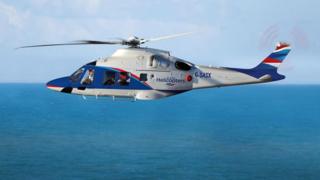 A helicopter service between Cornwall and the Isles of Scilly has been suspended days before it was due to be launched.
The decision has been taken to allow more time for a "Habitat Regulations Assessment" to be completed.
The Isles of Scilly Steamship Group (ISSG), service operators, previously contested the island council's call for an environmental assessment.
In a statement, the firm said it did not share the council's view.
A spokesman said: "Despite the very disappointing late notice, we are gathering information to assist the council in their decision making process to enable us to fly on Monday. We will issue a further statement in due course."
A draft assessment has been sent to Natural England after legal advisers confirmed it was required.
More on this story and other Cornwall news
The service between Land's End and St Mary's airport was scheduled to begin on Monday.
A spokesperson from the Council of the Isles of Scilly said: "We do not take the decision to withhold consent lightly and regret any inconvenience this situation causes to passengers who have booked flights."
ISSG, which already runs the Skybus plane service from the mainland, had planned to operate a 10-seater AW169 helicopter year-round, from its established airfield at Land's End to St Mary's and Tresco.
There has been a row between the firm and a rival helicopter service set up by the owner of Tresco, Robert Dorrien-Smith.
He wants to build a new heliport in Penzance, with services due to start in 2019.
A legal challenge by ISSG delayed Mr Dorrien-Smith's plans, with the company arguing a heliport would be better based at Land's End airport.
After a judicial review, planning permission for Mr Dorrien-Smith's heliport was withdrawn, but the planning application is still under consideration with a public consultation ongoing.
He has agreed to cut flights from a maximum of 2,465 a year to 2,150 and fly alternative routes during bird breeding season.