Dean Lowe jailed for Kirby Noden's murder in Cornwall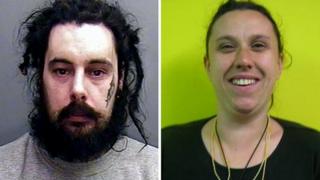 A man who killed his girlfriend with a rock and a metal pole before flushing her body parts down the toilet has been sentenced to 28 years in prison.
Dean Lowe, 33, was found guilty earlier this month of murdering Kirby Noden, whose body he disposed of in their flat in Marazion, Cornwall, in January 2017.
A jury heard how he had told relatives on Facebook how he "chopped [her] up and put [her] down the toilet".
Ms Noden's body has never been found, Exeter Crown Court was told.
More on this story and others from Cornwall
Passing a life sentence - with a minimum of 28 years - Mrs Justice Mays said his defence was "utterly cruel lies".
"This was a pitiless attack on someone who had done nothing but love you devotedly," she said.
Lowe killed Ms Noden with a rock that was left "smashed into five pieces", and a metal pole with three protruding screws, which he "used to finish her off".
During the trial Lowe claimed his girlfriend had set him up by spraying her own blood on the walls.
He had previously told a cousin: "She's dead and has been chopped up and put down the toilet and in the bins down the road."
"Either I'm getting set up or I've murdered Kirby."
His relatives then contacted police, who went to the flat on 18 May last year, where Lowe confessed to murder, only to retract it and plead not guilty in court.
On the disposal of Ms Noden's body, Mrs Justice May said: "In this bleak and desolate manner was Kirby's life ended and her remains obliterated.
"No one there to mourn or say goodbye. Not only have you denied her and her family of her life, you have also taken from them the dignity of commemorating her death."
During the hearing, the court heard a victim impact statement from Ms Noden's mother, Anita Noden.
She said her daughter was "a warm and caring person who would do anything for anybody", but she was prevented from staying in touch with her by Lowe.
Mrs Noden added that the way in which her daughter was killed and her body disposed of means she can never have a funeral, which has made her family's grieving "so much worse".
Mrs Justice May said Ms Noden referred to Lowe as the "love of her life", and that she undertook all the household chores such as shopping, getting cash and finding accommodation.
"You sat in your basement flat watching TV and taking, on your own account, whatever drugs you could get," she said.
"On the occasions when you could not afford any more drugs you would bloodlet, sometimes as much as two pints, for the head rush."