Parked car blocks Bodmin fire station exit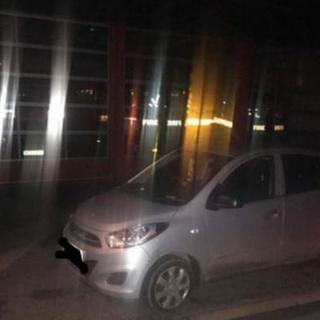 An "irresponsible" motorist who parked a car in front of a fire station's main doors - blocking in its fire engines - made a "serious error of judgement".
It happened at Bodmin Fire Station in Cornwall on Saturday night.
"Of all the parking spaces, I really don't think this was their wisest decision," the station said.
Cornwall Fire and Rescue Service said the incident was reported to Devon and Cornwall Police and the vehicle was removed about two hours later.
A spokesman said if the station had received a "shout" before the car was moved, it would have had no option but to move the vehicle using "any necessary means".
The driver, who has not been identified, has received a barrage of abuse on social media, including being labelled "moronic" and "irresponsible".
Firefighter Luke Hodge said the station's reason for posting the picture was to highlight the problems of careless parking.
"This isn't a witch-hunt against the individual - he or she has made a serious error of judgement but fortunately this time it was not critical in terms of being called to an incident," he said.
"We're just asking everybody to think before they park."