Dean Lowe guilty of beating partner to death in Cornwall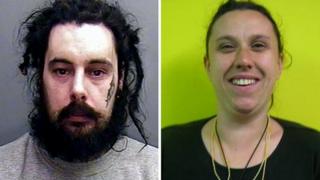 A man who beat his girlfriend to death with a rock and a metal pole before flushing her body parts down the toilet has been found guilty of murder.
Dean Lowe, 33, killed Kirby Noden and disposed of her body from their flat in Marazion, Cornwall, in January 2017.
He later told relatives on Facebook he "chopped [her] up and put [her] down the toilet", Truro Crown Court heard.
Lowe, who denied murder, was not in court for the verdict and will be sentenced on Tuesday.
Prosecuting, Paul Dunkels QC said Ms Noden's blood was on the weapons used to murder her as well as being spattered around the flat and "soaked into the bed's mattress".
Lowe cleaned up "the worst of the blood" and carried on living in the flat until mid-May, he said.
Mr Dunkels said: "Living in the midst of what he had done must have been gruesome."
Lowe told a cousin: "She's dead and has been chopped up and put down the toilet and in the bins down the road."
"Either I'm getting set up or I've murdered Kirby. I had a blackout, hazy memory and woke up with a body on the floor. I am scared so I just got rid.
"I put the body in the bins down the road. I remember the binmen finding all the meat and didn't know what it was. The carpet was lifted because of the body matter.
"It took a week to get rid of the body, it was horrible."
His relatives then contacted police, who went to the flat on 18 May last year, where Lowe confessed to murder only to retract it and plead not guilty in court.
Ms Noden's body has not been found.
During the trial Lowe claimed his girlfriend had set him up by spraying her own blood on the walls.
Lowe, of Beacon Road, Marazion, told the jury of six men and six women that he and Ms Noden spent the Christmas of 2016 "taking drugs and self harming".
He claimed he last saw her around 10-15 January before she had left him for another man and moved to South Africa.
The prosecution asserted his girlfriend had been killed by 14 January, when Lowe attempted to use her bank card to withdraw money.
The couple, originally from Winsford in Cheshire, had known each other since childhood because their parents were friends, the trial had heard.
They started a relationship aged around 25 and moved into the flat in Marazion after a period of being homeless.
Following the verdict, Det Insp Ian Ringrose said Ms Noden's family "have been put through a living hell with Lowe not disclosing where he disposed of Kirby's body and denying all knowledge in court".
In a statement Ms Noden's family said: "Dean Lowe has taken away from us something totally precious, and although we welcome this verdict and sentence, it will never replace our loss."
Mrs Justice May will sentence Lowe at Exeter Crown Court on Tuesday.