Cornwall A38 eight-vehicle crash leaves woman dead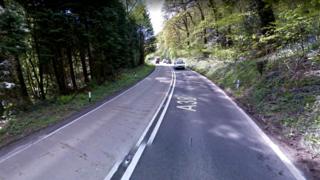 A 64-year-old woman has died and a 62-year-old man is in a critical condition after an eight-vehicle crash on the A38 in Cornwall.
They were riding a Honda motorcycle in the Glynn Valley, near Dobwalls, when the crash occurred at about 17:45 BST on Sunday. The woman was a pillion passenger on the motorbike.
They were taken to hospital in Plymouth, where the woman later died.
The drivers and occupants of the other vehicles suffered minor injuries.
The scene, near Liskeard's branch of the discount retailer Trago Mills, was closed for seven hours for a police investigation.
A 19-year-old female driver of one of the other vehicles has been interviewed by police in Plymouth about the crash, Devon and Cornwall Police said.