Hole 40ft deep opens in St Ives car park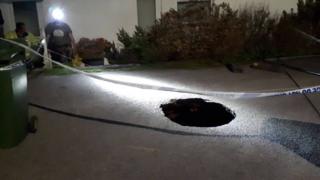 A 40ft (12m) deep hole has opened up beneath a car park built above a disused mineshaft in Cornwall.
Work has been carried out to stop the hole, which has been fenced off since Saturday, widening and affecting nearby homes in St Ives.
Police called in an engineer who, tied to a police vehicle, crawled across the tarmac to the hole to assess the risk of it opening further.
At the surface the hole is currently about 1m (3ft) wide.
Jim Gallienne, of Cornwall Search and Rescue, said his team were called in by Devon and Cornwall Police at about 19:30 BST.
He said: "Some of the tarmac is suspended over the hole which is [in total] about eight to 10ft wide. The hole could get deeper, but is not likely to get any wider.
"It shouldn't be swallowing up anything else around it any time soon."
He said it's unclear what type of mineshaft it is, and what it would have been used for.
"There is so much movement beneath our feet all the time but it's rare for this to happen on the surface so close to residential properties", Mr Gallienne added.
Stuart Dann, a mine investigator and member of the Carbis Bay Crew group of mine explorers, went to the scene at Garth-An-Creet.
He said: "What's happened is that the choke, or timbering covering the shaft, has failed and the bedrock has "coned" out under the tarmac to form quite an exciting hole."
"It has the potential to be an even bigger hole if it opens up properly."
Mining historians say parts of Cornwall are "riddled" with mineshafts and holes have opened in the past, including in 2014 when part of the main road between Helston and Penzance had to be dug up.