Isles of Scilly observatory plan to attract 'astro-tourists'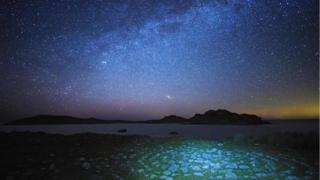 An observatory is set to be built at a "perfect stargazing spot" which has one of the darkest skies in England.
The centre, on St Martin's in the Isles of Scilly, aims to create a new "astro-tourism and centre of learning".
A £59,000 government grant has been secured after planning permission was granted for the site, owned by the Duchy of Cornwall.
Community Observatory St Martin's On Scilly (Cosmos) hopes to raise the other £20,000 needed for the project.
Charlie Payne, from the community interest company, said: "St Martin's is the perfect place for stargazing. There is no virtually no light pollution on the islands."
The Isles of Scilly is the district with the darkest sky in England, according to a 2016 report by the Campaign to Protect Rural England.
Ms Payne met the other six Cosmos islanders at a pub when she moved to St Martin's from London in 2016, and said they were "drawn together by our shared love of some of the most wondrous skies".
They said the observatory would have two observation domes - one for deep sky viewing and the other for solar viewing, which can be used during the day.
The archipelago, 28 miles (45km) off Cornwall, is an Area of Outstanding Natural Beauty.
To reach St Martin's, tourists have to catch a ferry or flight from south-west England to the main island of St Mary's and then transfer by boat.
Dr Robert Massey, deputy director of the Royal Astronomical Society, said: "There is currently a lot of interest in astronomy, people will travel distances to do this.
"It is very difficult to say where exactly is the darkest, but the Isles of Scilly are definitely one of the darkest places in the UK.
"It is a great place to build an observatory and there are relatively few," Dr Massey added
Valerie Thomas, chair of Cosmos, said: "We are delighted and we want the observatory to be for all - for young and old, locals and visitors."