Olympic rower Helen Glover loses unborn twin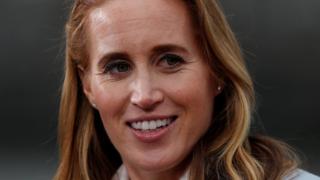 Double Olympic champion Helen Glover has announced she has lost one of the twins she was expecting.
The Team GB rower announced on Twitter that she and her husband, TV wildlife expert Steve Backshall, had received "the hard news that one baby hasn't made it".
The gold medallist, who is from Newlyn, Cornwall, said the couple were "very excited and hopeful for the remaining baby to arrive this summer".
She is due to give birth in July.
Dozens replied to Glover's tweet sending their condolences and good luck, including television presenter Ben Fogle who said: "We are sending you both lots of love."
Kate Dobinson added: "It must be very hard to be in the public eye at this time and I hope people give you the privacy you need."
Glover made the announcement she was expecting twins on Twitter in March.
The rower and Backshall, who married in September 2016, found out about the pregnancy before Christmas but had been away filming since then.
Glover and her rowing partner Heather Stanning won Britain's first gold medal of the 2012 Olympics in London.
She took part in a victory parade in Penzance after the win and a Royal Mail postbox was painted gold in the town in honour of her winning performance.
The pair took gold again in Rio de Janeiro in 2016, becoming the first British female rowers to defend their Olympic title.