PC Ryan Canning cleared of raping woman from dating website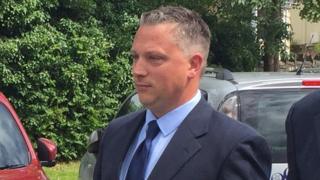 A police officer has been found not guilty of raping a woman he met on an online dating site.
PC Ryan Canning, 44, was accused of attacking the woman at his house the third time they met, in 2014.
PC Canning, of Burraton Coombe near Saltash, Cornwall, had denied the charge saying they had had consensual sex but was suspended from duty at the start of the investigation.
The jury at Truro Crown Court took just under 90 minutes to clear him.
More news from Devon and Cornwall
PC Canning had been accused of forcing himself on the woman at his home during the date after meeting on the internet dating site Plenty of Fish.
At the time, the woman did not report the allegation, but it was referred three years later by a police officer on her behalf.
She told the court she had made it clear she was not going to have sex with Mr Canning, because she was on her period and she also had a medical condition.
They both agreed they had been passionately kissing on the sofa and moved to the floor.
She admitted PC Canning had not used any physical force against her but said she just froze.
The officer said her claims she had said no and had been pushing him away were "completely fabricated".
"We were two consenting adults having sex," he told the court.
Despite being cleared of rape, PC Canning could still face police disciplinary action.
His lawyer Kevin Hopper, spoke on his behalf outside court: "As you can imagine he's greatly relieved man.
"What happens from here depends on the chief constable, Shaun Sawyer, and negotiations with the Police Federation. We'll deal with that as and when it arises."