Boy, 16, detained for Truro community centre stabbing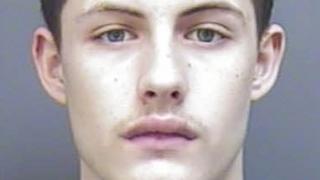 A 16-year-old has been detained for two years for stabbing a 14-year-old boy outside a community centre.
Jobe Clemow wore a black mask as he attacked the teenager with the knife, inflicting life-threatening injuries.
A 14-year-old girl, who cannot be named, worked with Clemow to lure the boy out of the community centre in Truro, Cornwall in September 2017.
Clemow was previously found guilty of wounding with intent to do grievous bodily harm at Truro Crown Court.
More Cornwall and Devon stories
The girl was given an intense referral order for a year at a previous hearing. Her sentence also dealt with unrelated knife offences at a school the week after.
The stabbing happened at about 20:00 BST on 27 September, leaving the victim with a punctured lung.
The victim had been at the community centre with friends when the girl asked him to go outside with her.
'Clear message'
She then left and Clemow appeared wearing a hooded top, tracksuit bottoms and a black mask.
He hit the victim on the side of the head before stabbing him below the right shoulder blade.
Det Con Joel Brown of Devon and Cornwall Police said: "The sentence from the court today should send a clear message that, regardless of age, you are likely to face imprisonment if you carry or use a knife in public."
A detention and training order is a custodial sentence issued to 15 to 17-year-olds convicted of an offence for which an adult would be sent to prison.
Half of Clemow's sentence will be spent in custody and half in the community.