Cornwall mother 'poisoned her baby with salt'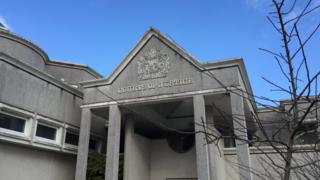 A mother poisoned her 18-month-old daughter with more than a table spoon of salt, a court has heard.
The girl, who cannot be identified for legal reasons, survived after treatment at two hospitals in Cornwall and Bristol in April 2016.
Her mother, from the St Austell area of Cornwall, denies the charge of administering a poison or noxious substance so as to endanger life.
The salt was most likely dissolved into a drink, Truro Crown Court heard.
'Mask the taste'
The prosecution told the court that medical expert, Dr Malcolm Coulthard, determined the child had ingested between 21g and 24g of table salt in the afternoon of 26 April.
A tablespoon holds about 17g of salt.
Prosecuting barrister, Peter Coombe told the jury experts had concluded "this must have been administered non-accidentally" and the salt was most likely "dissolved in something to mask the taste, such as milk".
Mr Coombe said: "Dr Coulthard will tell you children never voluntarily eat sufficient quantities of salt that would induce this reaction."
He said the defendant was in sole charge of her child that day, and there had been no visitors to the property.
The defendant's mother had called 111 after becoming concerned about her granddaughter's health following a telephone conversation.
Paramedics were subsequently called to the home, and the air ambulance then took the child to the Royal Cornwall Hospital in Truro, from where she was transferred to the Bristol Royal Hospital for Children.
Initially medics believed the girl had sepsis, but blood tests revealed high salt levels.
The court also heard the mother had googled the amount of salt it is safe for a toddler to eat the day before, but had not mentioned any concern over salt intake when talking to her GP or any other medical staff.
The trial continues.