'Despicable' dog cruelty pair from Penzance sentenced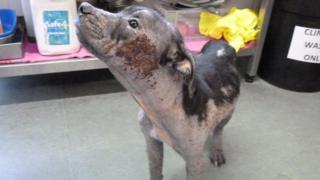 A mother and son have been given suspended sentences and banned from keeping pets after neglecting their dog in a "despicable act of cruelty".
Sharon and Ashley Wood previously pleaded guilty to mistreating their 10-month-old Staffordshire bull terrier at their home in Penzance, Cornwall.
The dog, called Dexter, was found malnourished and had a skin disease that left him without 90% of his fur.
Truro Magistrates' Court heard he has since been rehomed and is doing well.
More Cornwall and Devon stories
The defendants admitted causing unnecessary suffering to, and failing to ensure the welfare of Dexter.
The mistreatment lasted for five months up to him being seized in October last year.
Wood, 46, from Penzance, was embarrassed to seek treatment for Dexter because of his poor condition, the court was told.
She also could not afford for him to see a vet.
She and her son, age 22 from Redruth, were given 12-week prison sentences - suspended for two years - and disqualified for life from keeping all animals.
In addition they were each ordered to pay the court £415.
The magistrates called it "prolonged and deliberate ill treatment" and told the defendants "this is a despicable act of cruelty against this animal and you are lucky you are not on the way to prison".
Jon Phipps, the RSPCA inspector who handled the case, said Dexter's condition was "appalling".
"Luckily Dexter was found by a family friend who alerted us straight away," he added.
"If that person hadn't found Dexter he could possibly still be there now."