Funeral for Falklands War medic Capt Rick Jolly held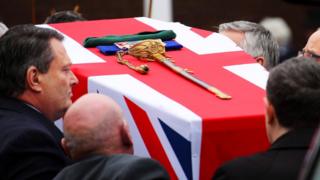 Hundreds have attended the funeral of a Royal Navy medical officer who saved hundreds of troops during the Falklands War.
Surgeon Capt Rick Jolly, who reputedly saved the life of every British serviceman he treated, died aged 71 on 13 January.
Capt Jolly's coffin was dressed with the Union Jack, his medals, a sword and green beret.
Comrade, Capt Erich Bootland, described him as "larger than life".
Mourners at the service at HMS Raleigh in Torpoint included Capt Jolly's wife, Susie, as well as other family members, neighbours and friends.
A parallel service was held at the cathedral in Stanley on the Falkland Islands.
Capt Jolly set up a field hospital known as the Red and Green Life Machine in Ajax Bay during the conflict, where about 1,000 troops were treated.
He was the only person to have been decorated by both Britain and Argentina.
He was appointed an OBE by the Queen, and awarded the Orden de Mayo (Order of May) by Argentina for his service during the war.
Capt Bootland said: "He was cheerful, outgoing, positive and I think the boys all looked to him to provide the lead for what we did.
"They all revered Rick. He was a larger than life character and there's absolutely no question, that I've never come across anybody else that could generate that kind of emotion."
Capt Jolly's coffin was carried by men who served alongside him at the Red and Green Life Machine during the Falklands conflict.
The service ended with the Last Post and Reveille performed by a bugler from the Royal Marines band.