Truro stabbing accused 'forgot he was holding knife'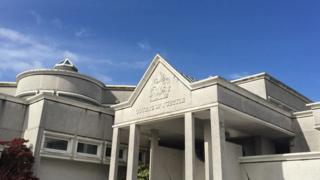 A 16-year-old boy who stabbed a 14-year-old forgot he was holding a knife, a court has heard.
The boy told Truro Crown Court he was about to punch his male victim outside a community centre in Truro, Cornwall, and "with the adrenaline, I completely forgot I had a knife in my hand".
The boy, who cannot be named, has admitted wounding but denies wounding with intent to do grievous bodily harm.
He added that he "wouldn't want to stab anyone".
The stabbing happened at about 20:00 BST on 27 September.
More Cornwall and Devon stories
The teenager, who cannot be named for legal reasons, told Truro Crown Court that he "had a lot of disrespect" for the 14-year-old, who was about to confront him.
He said he moved around the corner and held a knife in his right hand "to strengthen" his fist.
'Shaving a stick'
When the 14-year-old appeared with his fists raised, the defendant punched him in the head before the other boy went to rugby tackle him in the stomach, he said.
He told the jury he intended to punch the boy in the back, but the blade of the knife, protruding downwards from his hand, punctured a lung.
When questioned by his barrister, Ramsey Quaife, during his defence, he said: "I wouldn't want to stab anyone and get myself into trouble. Treat people how you want to be treated."
He said the small blade of the knife was already out when he had it in his pocket.
"Not long before, I was shaving a stick," he said.
A charge of possessing a knife has been removed from the indictment.
The trial continues.