Masked schoolboy 'stabbed 14-year-old' in Truro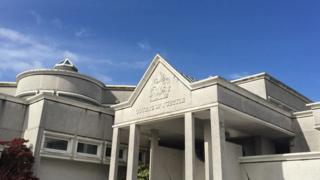 A masked schoolboy stabbed a 14-year-old boy outside a community centre in Truro, Cornwall, a court has heard.
The 16-year-old, who cannot be named for legal reasons, denies possessing a knife in a public place, and wounding with intent to do grievous bodily harm.
Truro Crown Court heard the victim had life threatening injuries after being stabbed in the back last September.
The defendant had previously admitted a charge of wounding, along with his co-defendant, a 14-year-old girl.
More Cornwall and Devon stories
Outlining the case for the prosecution, Brian Fitzherbert told the court the male defendant had written a post on Facebook saying: "about all the rumours going around, I did do it but had my reasons".
He had also admitted the stabbing to a social worker, claiming he had done it because he believed the victim had sexually assaulted his friend, the court heard.
The stabbing happened at about 20:00 BST on 27 September.
Punctured lung
The victim had been at the community centre with friends, when a girl, the co-defendant, asked him to go outside with her.
She then left, and the male defendant appeared wearing a hooded top, tracksuit bottoms and a black mask.
He hit the victim on the side of the head before stabbing him below the right shoulder blade, the court was told.
The victim then went back inside and told staff he had been stabbed.
They called an ambulance and he was taken to hospital with a punctured lung.
The jury heard that on his way to the ambulance the victim remembered somebody telling him "as soon as you get out of hospital, you're going back in".
A family friend of the defendant told police he had admitted the crime to him, and when he asked what he'd done with the knife he said "I dashed it in a garden", Mr Fitzherbert explained.
The trial continues.