Carnkie man trapped as 'earthquake' blasts destroy home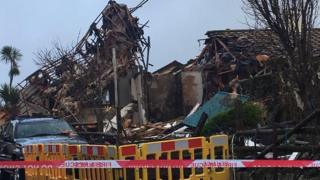 A man was left trapped under rubble after a huge "earthquake-like" explosion destroyed a bungalow.
The explosion ripped off the side of the home in Carnkie, near Helston, Cornwall, at about 01:00 GMT, and a second soon afterwards spread debris up to 200m away.
The trapped man was freed by neighbours and taken to hospital. His condition is not yet known.
One witness said exploding gas cylinders were behind the devastation.
More on this story and others from Cornwall
Neighbour Brian Kneebone said: "We just heard a very loud bang and got out of the bed.
"We looked out of the bedroom window and we saw flames from the bungalow.
"What used to be my daughter's bedroom, the window was broken. I've got to scrape up the glass from the garden at the minute."
He said neighbours from the adjoining bungalow, which is part of the same building, were in bed when their wardrobe collapsed on them.
"They're ok, they're staying with another neighbour overnight at the moment," he said.
Neighbour Penny Eddy said the explosions were caused by gas cylinders.
"I thought it was a thunderbolt," she said. "My sun lounge and dining room had holes in the ceiling.
"We went into the kitchen and there was water everywhere. It's an awful situation."
Her garden was pockmarked with embedded roof tiles from the bungalow.
"We were lucky no-one was hit," she said.